Summer 1985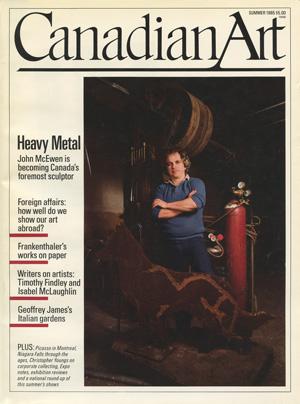 On newsstands June 15 to September 14, 1985
Volume 2, Number 2
Features
Foreign Affairs
Does Canada have a cultural foreign policy? By Joyce Wayne
Frankenthaler
The time is right for Canadians to get acquainted with this eminent American painter. By Karen Wilkin
John McEwen
With three major commissions under way this year, John McEwen may well be Canada's foremost contemporary sculptor. By Gary Michael Dault
Niagara Falls
A major show of historic depictions of Niagara Falls reveals the power and the glory of one of North America's most potent cultural symbols. By Peter Day
Comparing Notes
Novelist Timothy Findley traces his life-long fascination with the paintings of Isabel McLaughlin. By Timothy Findley
Paradise Lost
Geoffrey James's photographs of Italian formal gardens evoke the earthly Edens of another age. By Douglas Chambers
Collage
The state of the arts at Expo 86, Gilmour's gift, Adieu to Yajima/Galerie, Maritime artists fight the cuts, Picassomania and Niagara's GNOMES.
Gallery
A preview of this summer's shows, compiled by Peter Day: Picasso in Montreal, Iskowitz in Toronto, group shows of the young and restless, images from the Weimar Republic and installation from across the nation.
Book Reviews
Adele Freedman on the New Design; Elizabeth McLuhan on Ojibwa art; In Brief: masterworks from the Guggenheim, Degas' life and times and some practical guides for the art collector.
Art & Money
Christopher Youngs offers some guidelines for creative corporate collecting.
Reviews
Space Invaders By Robert Enright Late Capitalism By David McFadden Cubism Revisited: The Paintings of Douglas Haynes By Liz Wylie Michael Flomen: Still Life Draped Stone By George Bogardi Richard Prince: Simple Objects By Rosalie Staley David Tomas: Through the Eye of the Cyclops By René Blouin David Blackwood: A Survey (1965-84) By Harry Thurston Le Grand Héritage By Chantal Boulanger, translated by David Homel Cover: Portrait of John McEwen by Tom Skudra.