Spring 1988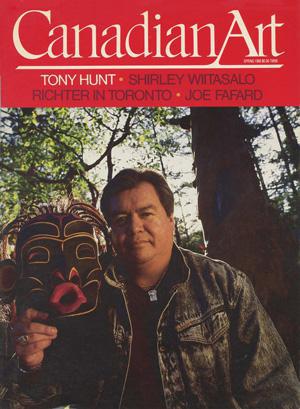 On newsstands March 15 to June 14, 1988 - Volume 5, Number 1
Features
Community Spirit
In a delicate balancing act between caricature and portraiture, Joe Fafard creates a universe with a cast of familiar characters. By Nancy Tousley
Subversive Action
Shirley Wiitasalo's paintings erode the boundaries between the public and private. By Gary Michael Dault
Lonti Ebers
If art is the new religion, then this high-rolling consultant is Toronto's high priestess. By David Livingstone
Decoding Tony Hunt
Making and wearing the masks of his people, he's a complex figure in a tribal tradition. By Sean Virgo
On the Richter Scale
With his forthcoming exhibition of German artist Gerhard Richter, curator Roald Nasgaard has put the Art Gallery of Ontario on the international circuit. By Peter Day
Collage
The Spirit backfires in Calgary, Noah on stage in Winnipeg, Canada at the Cologne Art Fair, Bill C-54, a new centre for design in the works and London Ontario's art hotel.
This Spring
Borduas in retrospect at the MMFA, a preview peek at the new National Gallery, a thematic appraisal of Tony Urquhart, Ellsworth Kelly's works on paper at the AGO, Ken Lum in Montreal, Ken Lochhead's abstracts at the Dunlop, and in Winnipeg, Bruce Ferguson and Sandy Nairne curate The Impossible Self.
Point of View
What's so serious about "serious" art? Ian Carr-Harris looks at two recent projects by curator Bruce Grenville.
Afterimage
Hans Werner looks at Homer Watson's Death of Elaine.
Reviews
Northern Noises: 19th Sao Paulo International Biennial By Robert McGee Stan Douglas: Perspective 87 By Peggy Gale Martha Townsend By Renee Baert Will Gorlitz/Bad Faith By Liz Wylie David MacWilliam By Robin Laurence Gilles Mihalcean By George Bogardi John Street is a One-Way Street: Clark McDougall Retrospective, 1921–1980/Clark McDougall: Elgin County Landscapes/Clark McDougall: Early Works By Tom Smart Greg Murdock By Monica Forrestall John Miler: Poison Pen, A Story of Wrongful Dismissal/East of Adelaide 1907–1928 By Jamelie Hassan The Life of Emily Carr By Adele Freedman Posted to Canada: The Watercolours of George Russell Dartnell 1835–1844 By Dorothy Farr Le Monde Selon Graff 1966–1986 By Henry Lehman Dennis Gill: In the Heat of the Moment There is No Reason/Gerald MacKinnon: New Works By Ian Wiseman Cover: Copying and creating anew the artifacts of his people, Tony Hunt is a cultural hero of the Kwa-Gulth. Photo by Tom Skudra.