Spring 1987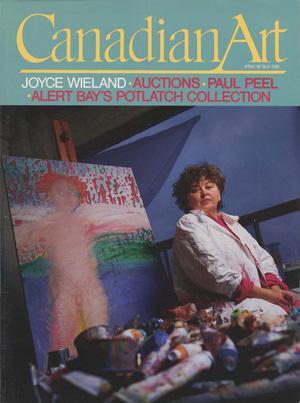 On newsstands March 15 to June 14, 1987
Features
Joyce Wieland
On the occasion of her AGO retrospective, a celebration of the true patriot womanhood of one of Canada's foremost artists. By Jay Scott And a conversation with the artist. By Susan M. Crean
After the Bathos
A Paul Peel retrospective questions the validity of the current revival of interest in the academic tradition. By Ramsay Cook
Dorothy Cameron
This former art dealer and veteran of the Toronto art scene has begun a new career as an artist. By Gary Michael Dault
And So to Bid
Who sells what, and to whom? The inside story on the high-stakes world of Canada's art auction houses. By Lisa Balfour Bowen
Playing, Pretending, Being Real
In Alert Bay, British Columbia, a unique collection of native artifacts has found its way back home. By Brian Shein
Collage
Canada at the Cologne art fair, collecting at the University of Lethbridge, Impressionist and early modern paintings from the USSR at the Musée du Quebec, new art at Queen's Park, Expo disposal, Sots Art in Calgary and a private collection made public at the Art Gallery of Ontario.
This Spring
Leonardo hits Montreal, new paintings by Sheila Butler, Reta Cowley's humanized landscapes, Canadian printmaking on tour, Stacey Spiegel in Hamilton, two Joey Morgan exhibitions and Toronto: A Play of History.
Art & Money
A critical look at everyone's favourite fund-raiser — the charity auction. By Rachel Rafelman
Point of View
A task force charged with examining federal policy on museums has brilliantly diagnosed our museological ills. By AA Bronson
Tribute
Tim Jocelyn By David Livingstone
Reviews
Focus: Canadian Art from 1960 to 1985 By Noemi Smolik Robin Wiens By Gary Michael Dault Ted Bieler: Recent Sculpture By Hans Werner David Craven: Recent Works By George Bogardi Montreal/Toronto Video Exchange/Artists.Television. A Symposium By Earl Miller Dark/Light By Peggy Gale Jack Shadbolt: Recent Paintings By Scott Watson Richard Gorenko By Ken Konoff Tom Hopkins By David Hicks Vicky Marshall By Robin Laurence Barker Fairley By Gary Michael Dault David Milne: Bright Garden/Goodridge Roberts: The Late Still Lifes By Linda Genereux Bill Reid/Bill Reid: Beyond the Essential Form By Joan M. Vaskokas One Man's Obsession/The Best of Tom Thomson By Robert Stacey Cover: Toronto painter and experimental filmmaker Joyce Wieland caught in mid-canvas at her studio. Photo by Jim Allen.