Spring 1986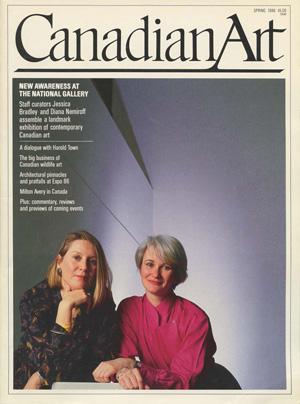 On newsstands March 15 to June 14, 1986
Volume 3, Number 1
Features
Songs of Experience
At the National Gallery of Canada, a landmark exhibition reflects the public and private concerns of a new generation of artists. By Peggy Gale
Harold Town
From Rembrandt to musclemen: a freewheeling discussion with Harold Town on the eve of his retrospective at the Art Gallery of Ontario. By Gary Michael Dault
Bread and Surfaces
Architecture at Expo 86: only a handful of the pavilions at the fair rise above the high-tech gospel according to the Social Credit. By Trevor Boddy
Wildlife at the Top
In Canada, wildlife art has become more of a cottage industry than an aesthetic pursuit. By Hubert de Santana
Milton Avery's Landscape Legacy
A brilliant colourist and shape maker, Milton Avery created images of Canada that laid the foundations for many of our landscape artists. By Karen Wilkin
The Dark Visions of Donigan Cumming
One of Montreal's most controversial artists tests the conventions of documentary photography. By George Bogardi
Collage
The Cognac connection, Isokwitz turns patron, Art Bank on the road, Dief watching, Bauhaus blowout in Montreal and a slice of Chuck Stake.
Previews
Montreal painting in the '60s, new Liz Magor, Toronto thinks architecture, Kenojuak revisited and Janice Gurney does some damage.
Book Reviews
The complete Guggenheim, Mondrian, Matisse and a catalogue of treasured by Judaica reviewed by Richard Perry. Plus: Lismer cartoons and notes on moernism in Toronto.
Art & Money
Canada Council in the hot seat and the mystery of Jack Chambers's Dormer Tribute print.
Point of View
At a lively and provocative conference in Vancouver, women tussled with the problem of expressing their erotic experience in art. By Varda Burstyn
Reviews
Innova Scotia By Harry Thurston Ecrans Politiques/Political Reflections By Serge Bérard The Physicality of Landscape/Atmosphere Synthesis By David McFadden Ray Mead: Recent Paintings By David Burnett Art in Situ By René Blouin Architecture Speaks to a Museum That Fell From the Sky By Gary Michael Dault Eric Fischl By Karen Wilkin Visual Facts: Photography & Video By Eight Artists in Canada By Christina Richie Cover: Portrait of Jessica Bradley and Diana Nemiroff by Michel Pilon.