Fall 1987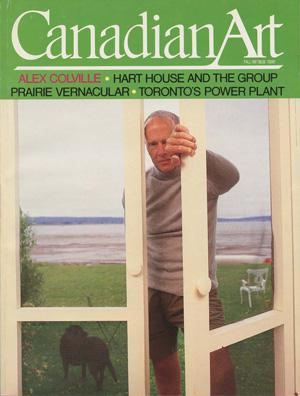 On newsstands September 15 to December 14, 1987
Volume 4, Number 3
Features
Nothing Phoney
From his war art onward, Alex Colville's paintings wrestle an unsentimental order out of chaos. By Hans Werner
Decking the Halls
How the Group of Seven and their patrons shaped the art collection at the University of Toronto's Hart House. By Martin Hunter
Prairie Vernacular
Learning from precedents set in California and Chicago, Regina artists have developed a rich relationship with local folk art traditions. By Nancy Tousley
Power Play
Instead of challenging art-world orthodoxy, The Power Plant's opening exhibition enshrined Toronto's A-List. By Gary Michael Dault
Carol Fraser
A touring exhibition of drawings by this Halifax artist tells a story of passage from medium to medium. By Ian Wiseman
Collage
Art and politics at the Washington embassy, Molinari's Danse Soupir, the 49th Parallel's bid for privatization, snagged expansion plans at The Montreal Museum of Fine Arts, Andrew Danson's Unofficial Portraits, Emily Carr gets the spotlight in this fall's Vancouver theatre season, and a Toronto architectural conference and exhibition look at the beleaguered heritage of modernism.
This Fall
Jow Fafard tours the prairies, Marsden Hartley's Nova Scotia years evaluated, Jannis Kounellis at the Musée d'art contemporain de Montréal, Gordon Smith at the VAG, and a house of horrors on Toronto's waterfront.
Afterimage
Mary Pratt tells the story of the making of her favourite painting.
Reviews
Documenta 8/Skulptur Projekte In 1987 By Peggy Gale Histoire En Quatre Temps By James D. Campbell Irene F. Whittome: Creativity; Fertility By George Bogardi Martha Fleming and Lyne Lapointe: La Donna Delinquenta By George Bogardi Ronald Bloore By Julianna Borsa Braun Jane Martin: Berkeley Castle Works, 1984-1987 By Susan M. Crean Shirley Wiitasalo By Linda Genereux The Advent Of Modernism: Post-Impressionism And North American Art, 1900-1918 By John Clark Fastwürms: Chew Or Die By Gary Michael Dault Angela Grossmann: Affaires D'Enfants By Scott Watson Peter Aspell By Rosalie Staley Richard Harrington: The Incredible Journeys By John Reeves Rita McKeough: Retaining Wall By Nancy Tousley Documents in Canadian Art By Susan Walker Cover: An existential humanist: Alex Coville at home in Wolfville, Nova Scotia. Photo by John Bladen Bentley.