Fall 1986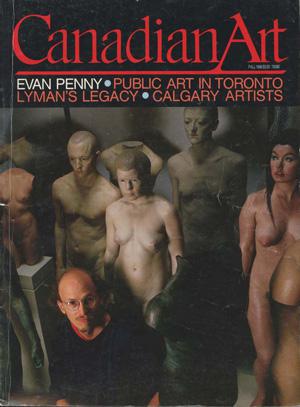 On newsstands September 15 to December 14, 1986
Volume 3, Number 3
Features
Evan Penny
Figurative sculpture made strange and new; one sculptor's long journey into the mystery of essential form. By Gary Michael Dault
John Lyman
Sophisticated yet dogmatic, he introduced Canadian art to the world, and the world to Canada. By Sandra Paikowsky
Roots, Rejections and Rewards in Calgary
Now as ever, artists in Stampede City find what fails to kill them makes them stronger. By Nancy Tousley
To Conserve and Protect
How Sandra Lawrence wages war against heat, humidity and Coca-Cola stains at the AGO. By Mechtild Hoppenrath
Public Art vs Art for Public Spaces
Having survived "plop art", is Toronto ready for the new public art? By Adele Freedman
Collage
New galleries in TO and Montreal, Halifax's Audio by Artists Fesitval, GI's design debacle, CN Towermania, a NSCAD update, two new photo venues, Tascona's footwear fetish and Sam Snead postmodernized.
This Fall
The fall season in Toronto, Montreal see the Light, Sandra Meigs's pictorial perversities, Tony Brown's Machines For Feeling, the Prairies at Habourfront, Will Gorlitz and Nancy Johnson at the Art Gallery of Ontario.
Art & Money
Norcean donates its corporate art collection to the Glenbow and the AGO. In Montreal, Canada's new copyright society finds itself at the centre of a wrangle over Picasso reproduction rights.
Point of View
At the Budapest Spring Festival, writer Clara Hargittay discovered a few lessons that Canadians could take to heart.
Reviews
XLII Biennale D'Arte Di Venezia By Charlotte Townsend-Gault Ron Shuebrook By George Bogardi Expressions of Will: The Art of Prudence Heward By Rebecca Sisler Making History: Recent Art of the Pacific West By Frank Nowosad The Automatists Then and Now By Helen Duffy A Measure of Consensus: Canadian Architecture in Transition By Barabara Shapiro The Eight Dalhousie Drawing Exhibition By Harry Thurston Habits: Five Video Premieres By Varda Burstyn Shelagh Keeley: Gestures of the Body/Gestures of the Site By Scott Watson Raymonde April By Serge Bérard Brian Burnett/Howard Simkins/Alan Glicksman By Gary Michael Dault How We See What We Say By Renee Baert Cover: Evan Penny, seen here with a throng of his plastic people, makes figurative sculptures that take mimesis to its outer limits. Photo by Michel Pilon.