Fall 1984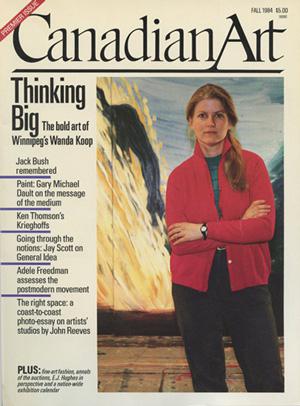 On newsstands September 15 to December 14, 1984 - Volume 1, Number 1
Features
Thinking Big
Winnipeg artist Wanda Koop plucks her images from the prairie landscape and creates billboard-sized paintings that speak volumes. By Robert Enright
Paint
Considering the sublunary nature of pigment, you'd think painters would get used to it. They don't. They talk about paint as lyrically as Cyrano de Bergerac talked about the moon. By Gary Michael Dault
The Right Space
A veteran photographer and chronicler of the art scene visits spectacular artists' studios from Newfoundland to British Columbia. By John Reeves
E.J. Hughes in Perspective
Alternately labelled a regionalist, a realist or a primitive painter, E.J. Hughes has personalized the British Columbia coastal landscape. By Scott Watson
Jack Bush
Critics, friends and colleagues pay tribute to the remarkable life and art of an internationally acclaimed painter.
Going Through the Notions
It was 1984. Everything General Idea had said would come true had come true. The biggest idea of all had come true. The general idea. By Jay Scott
Postmodernism
The shape of things to come or a remembrance of things past? Architects are thrashing out the meaning of postmodernism. By Adele Freedman
Dressing Up
From the people who brought you Chromazone--an evening of fashion dionysiatrics created by Toronto artists and produced by Tim Jocelyn.
Ken Thomson's Magnificent Obsession
The country's foremost collection of paintings by Cornelius Krieghoff has been amassed by the man who rules the Thomson corporate empire. By Christopher Hume
Collage
The 41st Venice Biennale, Andre Durand paints Pop John Paul II, Opening doors to Bouguereau, Painting the Figure, The troubled Loeb bequest...
Gallery
A national listing of fall exhibition schedules
Art & Money
Our man at Sotheby's, Price watch, One-man shows, The great Gretzky deal Cover: Portrait of Wanda Koop by William Eakin