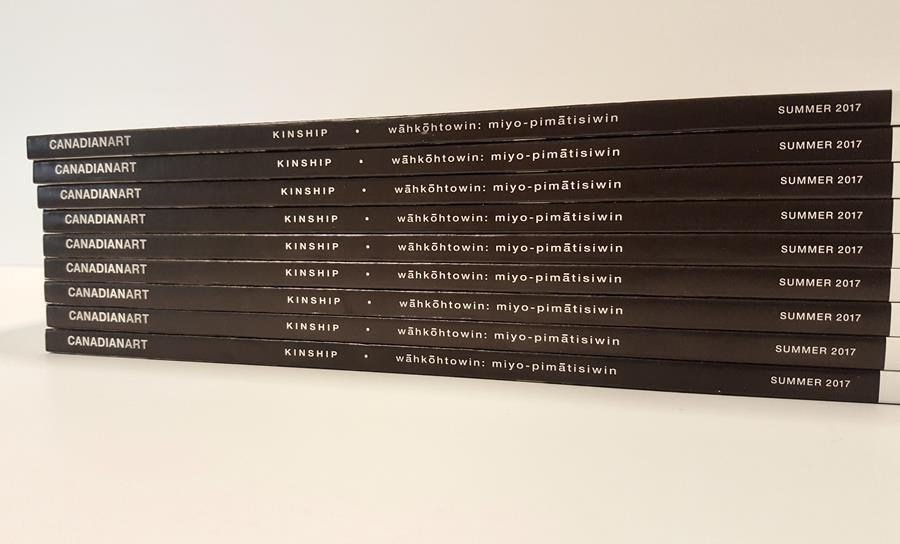 Wednesday, June 14, 7 to 10 p.m.
Untitled Art Society, 343 11 Ave SW
Panel: Jason Baerg, Billy-Ray Belcourt, Michelle McGeough, Lindsay Nixon and Adrian Stimson
Join Canadian Art on June 14 at Calgary's Untitled Art Society to celebrate the launch of our Summer 2017 issue.
Join Canadian Art Indigenous editor-at-large Lindsay Nixon for the launch of our Summer 2017 issue, featuring a panel discussion around the issue's theme of "Kinship." The panel is comprised of an intergenerational group of artists, writers, curators and scholars, and is being organized to honour the gender-variant and sexually diverse community members whose work makes this issue of Canadian Art possible. "Kinship" celebrates the new generation, and this panel honours the generation that came before and the work they did to pave the way for the groundbreaking work featured. As Nixon observes, "this panel will feature the kind of intergenerational discourse between two-spirit folks that is frequently stymied. That's why this is such an important and revolutionary conversation for our community."
Admission is free; all welcome.
Jason Baerg is a Cree-Métis visual artist and media producer who specializes in drawing, painting, film and new media. As a visual artist, Baerg has exhibited his work internationally at such institutions as the Banff Centre, the FOFA Gallery, the Toronto International Art Fair and Art Basel Miami. As a media producer, Baerg works in the Canadian television and film industry developing documentary and multimedia art projects with such broadcasters as APTN, SunTV and the National Film Board of Canada.
Billy-Ray Belcourt is from the Driftpile Cree Nation. He is a 2016 Rhodes Scholar and is reading for an M.St. in women's studies at the University of Oxford and Wadham College; his thesis is tentatively titled "Decolonial Sight: Indigenous Feminist Protest and the World-to-Come." He holds a BA (Hons.) in comparative literature from the University of Alberta. Billy-Ray studies Indigenous art, literature, and film and theorizes about the anti-/ante-/ontological, queer worldings, native futures, the two valences of non-sovereignty, and ethics in a colonial present. Belcourt also has a forthcoming poetry collection through Frontenac House entitled This Wound is a World: Poems.
Michelle McGeough is a Cree-Métis Ph.D. candidate enrolled in the art history department at the University of New Mexico in Albuquerque. She has previously taught museum studies at the Institute of American Indian, and held the position of assistant curator at the Wheelwright Museum of the Native American. Presently, McGeough is completing her dissertation that examines Aboriginal understandings of gender fluidity and the impact these notions have on artistic production, both currently and historically. She recently accepted a position with the University of British Columbia's department of Art History, Visual Art and Theory, and will join their faculty in fall 2017.
Lindsay Nixon is a nehiyaw-saulteaux-Métis curator, editor, writer and art-history grad student. They currently hold the position of Indigenous editor-at-large for Canadian Art magazine, and are the editor of mâmawi­-âcimowak, an independent art, art criticism and literature journal. Nixon's writing has appeared in the Malahat Review, Room, GUTS, Briarpatch and other publications.  They currently reside in Tio'tia:ke/Mooniyaang—unceded Haudenosaunee and Anishinaabe territories (Montreal), where they co-founded the Black Indigenous Harm Alliance and Critical Sass Press.
Adrian Stimson is a member of the Siksika (Blackfoot) Nation in southern Alberta. He is an interdisciplinary artist, curator and educator with a BFA with distinction from the Alberta College of Art and Design and an MFA from the University of Saskatchewan. As an interdisciplinary artist, Adrian's work includes paintings, installations, collodion wet plate photography, sculpture and performance.
Supporting sponsors: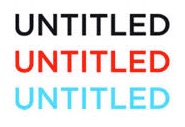 Resolve Photo
EMMEDIA Gallery & Production Society