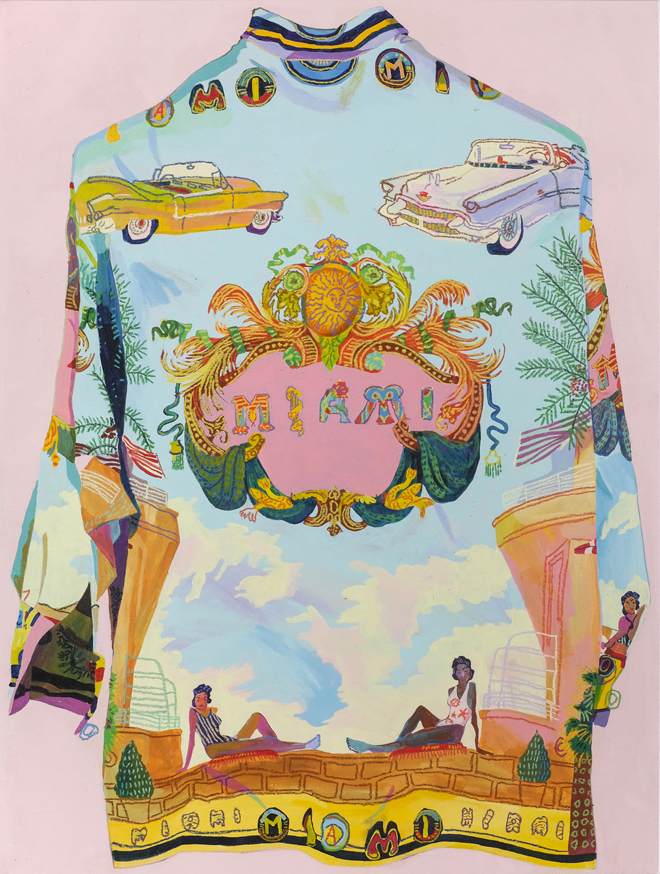 A painting by Andy Dixon. Courtesy Beers London.
Andy Dixon at Beers London / Pulse
If Andy Dixon's solo booth doesn't sell out for UK gallerist Beers London at this year's Pulse fair, then it may be possible that the American economy is on its way to being well and truly dead. The Vancouver-based Dixon, formerly of the punk rock band dbs, makes large, pinkish, appealing paintings that play on art history and commerce in charming, easy-on-the-eyes ways—and they have already led to sold-out booths at much less trafficked fairs like Art Toronto (where Winsor Gallery scored with his work in 2016).
There's even a conceptual-art kicker: the booth show is called, knowingly, "How Much Does it Cost?" The challenge, of course, may be in trying to appeal to buyers who are already facing a fair-week glut, or, perhaps, work that Dixon himself has charged is a copy of his own. But come on, let's be real: even Mindy Kaling is a fan. This showing by a punk rocker turned pop artist should do quite well.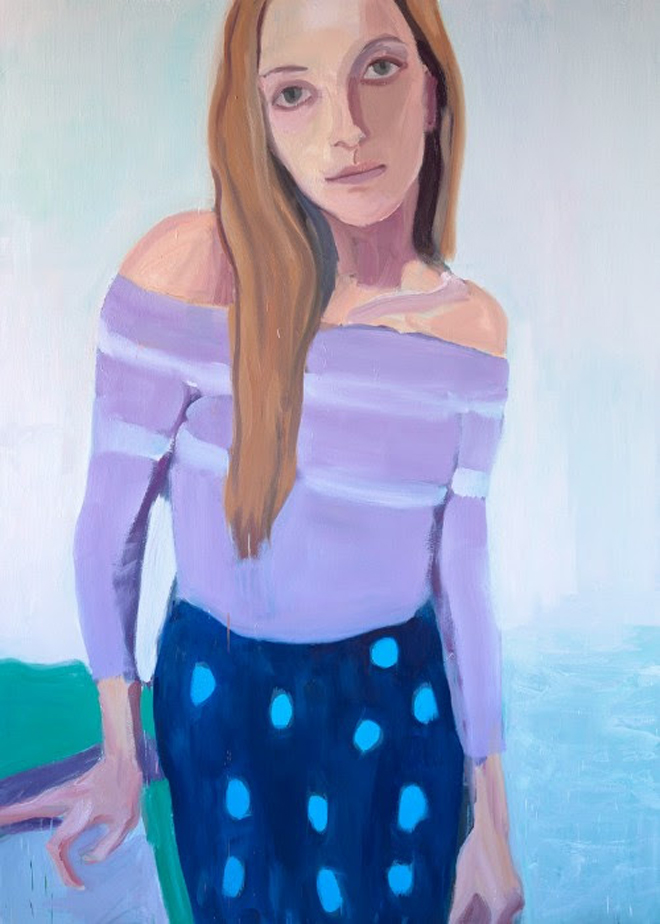 Shelley Adler, Home, 2017.
Shelley Adler at Nicholas Metivier / Pulse
Toronto-based painter Shelley Adler has been exploring the female figure for years, generating canvases that play on tensions between seduction and abjection, exterior and interior, fashion and fixation. So her new canvases at Toronto gallerist Nicholas Metivier's Pulse booth are one attraction at that fair.
But that's not all. Also at the booth, view photos by Edward Burtynsky and Ned Pratt; large-scale photorealist portraits by Charles Bierk; intimate, painterly scenes by Matthew Schofield and more. And not to be missed: Metivier's selections of work by the late, revered American photographer Gordon Parks.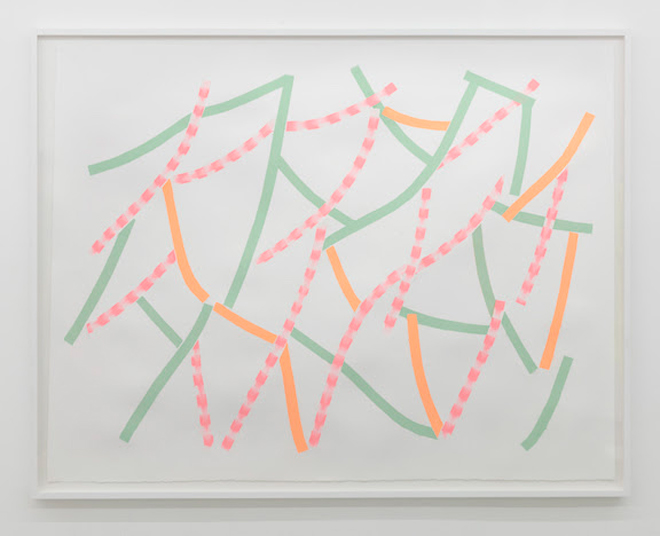 Jaime Angelopoulos, Hearts/Wires, 2017. Conte on paper, 69 x 54 inches. Courtesy MKG127.
Jaime Angelopoulos at MKG127 / Untitled
Fun yet sophisticated might be one (crude, perhaps) way of describing the abstract drawings and sculptures of Toronto-based artist Jaime Angelopoulos.
In considering them, it's wisest to refer to a text from her recent solo show at the MacLaren Art Centre: "These abstractions are diverse yet linked by spirited colour, buoyant line and hard-won compositional balance…. it hints at transmutation while reverberating a sense of humanity."
Also in the transmutational vein, perhaps, are Roula Partheniou's carefully crafted to-scale reproductions of household items; Micah Adams' large-scale ballpoint-pen drawings of coins; and Alan Belcher's outsourced paintings of fashionable sneakers. You can catch these, too, at Toronto gallerist MKG127's booth.
Esmaa Mohamoud at ltd los angeles / NADA
Young Toronto artist Esmaa Mohamoud's star just keeps rising. And rightfully so.
Into a Canadian art history that has had plenty of representations of hockey (so many that there was a touring show called "Arena" based in the phenomenon a few years back) Mohamoud has inserted provocative mediations on basketball—and, cogently, on the intersections of gender, race and class around this sport. (Some of this work is represented in the artist's Instagram slideshow above.)
While it's hard to know exactly what ltd los angeles will be showing of Mohamoud's at NADA, the gallery's Instagram posts suggest it could include more of her large photo-prints of men wearing specially altered NBA-uniforms-cum-ballgowns—like the ones the Art Gallery of Ontario is currently featuring in "Every. Now. Then." and that ltd found success with at Art Toronto earlier this year. Will there also be some of her concrete casts of deflated basketballs? You will have to go yourself to find out.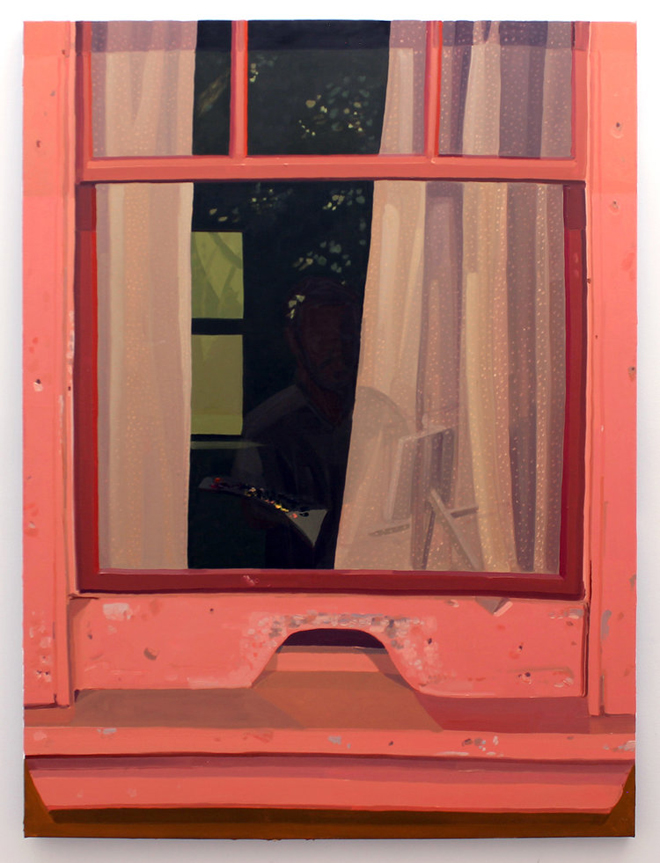 Keiran Brennan Hinton, Diego, 2017. Courtesy Mulherin.
Keiran Brennan Hinton at Mulherin / Untitled
Born in 1992 in Toronto, Keiran Brennan Hinton moved to New York in 2010 to study painting at Pratt Institute, where he won an outstanding merit award. From there, he went straight into his MFA in painting at the Yale School of Art, and graduated from the program in 2016. Now, Mulherin is bringing his work—which often depicts windows and doors—to Miami.
Also at the Mulherin booth and worth a look: monochromatic gouaches by Peterborough-based painter Alex Bierk and small, photorealist landscapes by Canadian painter Mike Bayne.
Sascha Braunig at Foxy Production / Art Basel Miami
New York's Foxy Production is actually focusing on two Canadian-expat artists at its booth in the Art Basel Miami Nova section: painter Sascha Braunig and photographer Sara Cwynar.
"Beginning with meticulously rendered paintings of fantastical sculptural constructions," said a text for Braunig's MoMA PS1 show this year, "the artist has deployed a range of pictorial techniques to depict bodies under duress. The figures in her work are compressed by their environments, stretched and twisted across armatures, and often overwhelmed by their surroundings." (This description certainly befits the Maine-based artist's "Yes I'm a Witch," shown above.)
Cwynar also dazzles with bodily manipulations, but in a somewhat different way. The York U– and Yale-trained, Brooklyn-based artist layers colour gels, collected objects and collaged imagery over her new large-scale photographs of young women—always with great aplomb.
Both Braunig and Cwynar are already well known in the States; hopefully this event pushes awareness of their profound talents even further.
Paul P. at Cooper Cole / NADA
Canadian painter Paul P. is no stranger to the international art scene; for years he has been based in Paris, influencing many with his visions of masculinity. "In 2006, Hedi Slimane, the menswear designer known for chucking attractively pasty, rail-thin male models down the runway, based the visuals of a Dior Homme advertising campaign on P.'s drawings of willowy young men," wrote Bill Clarke in Canadian Art magazine a decade ago. Those drawings "in turn, were derived from images culled from 1970s gay-porn magazines."
Not surprisingly, given his skill and vision, P.'s art is in the collection, now, of the Museum of Modern Art in New York and the Los Angles County Museum of Art, among others. And Cooper Cole is bringing some of his work, now, to Miami. Where will P.'s new canvas Untitled (after Perseus by Cellini) (seen above) end up? Would be great if it was another place the public could see it, but understandable if not.
Also on view at the Cooper Cole booth, and worth a look or four: works by Canadians Sara Cwynar, Tau Lewis, Jenine Marsh and Curtis Santiago.
Zadie Xa at L'Inconnue / NADA Projects
Vancouver-raised, London-based artist Zadie Xa was named by Artsy as one of "17 Emerging Artists to Watch in 2017" around the time of last year's Miami Art Week, and that was certainly no lie. Xa's creations, which have taken the form of capes and magical clothing—like My Grandmother's Robe/Pink Pelle Pelle, seen above—have fantastical effects that are grounded in formidable issues of identity.
Says her website: "Through performance, video, painting and textiles, artist Zadie Xa interrogates the overlapping and conflation of cultures that inform self conceptualized identities, notions of self and her experience within the Asian diaspora. Her intricate hand sewn fabric work stitches together familiar symbols of yin-yangs, knives, lucky numbers and monolid eyes, all operating within a system of personalized semiotics."
Up and coming Montreal gallery L'Inconnue is bringing Xa's work to NADA's small projects section, and the artist is also collaborating with NADA on a special clothing edition that, quite honestly, has probably sold out by now.
Maja Padrov at Studio 21 / FORM
Halifax's Studio 21 is one of just a handful of Atlantic Canadian galleries that deal in contemporary art, and it is wisely carving out a niche within that niche by focusing on some of the region's many talented craft artists.
Among them is Maja Padrov, who was was born in Novi Sad, Serbia, and later moved to Fredericton in 1997. (That's her Tall Red Cylindrical Ewer above.) In 2001, she graduated from the New Brunswick College of Craft and Design in studio pottery, and since then has found an increasing audience for her work. Her work nearly sold out at Studio 21's SOFA Expo booth in Chicago this year, and the same may well happen at FORM, which is new to Miami Art Week and is the city's only art fair dedicated to the applied arts and sculpture objects.
Other artists being featured by Studio 21 at FORM are Mariko Peterson, who grew up in Vancouver, earned her MFA at Kent State, and is now based in Halifax at her Forage Studios—her playful vases offering critical takes on Orientalism in ceramics are a treat. Also at the booth: Sydney Blum, Laura Jean Forrester, Eva Lapka, Sara Maloney and Gina Stick.
Harold Town, Snap 75, 1974. Oil and Lucite on canvas. 90 x 74 inches. Courtesy Christopher Cutts.
Harold Town at Christopher Cutts / Art Miami
In 1956, Harold Town's art represented Canada at the Venice Biennale alongside Jack Shadbolt and Louis Archambault. In 1964, he hit Venice again with Elza Mayhew. And in 1957 and 1961, he showed at the São Paulo Art Biennial. So could this late artist's work ever have a resurgence internationally? Perhaps Toronto dealer Christopher Cutts is testing the waters by bringing this large canvas by Town, Snap 75, to Art Miami.
Notably, Cutts is also bringing the work of another (living!) Canadian art legend, Michael Snow, to the fair. There are also contemporary works by Edmonton painter Dana Holst (who recently exhibited a diptych drawing of Melania Trump's eyes as part of her show "Girls! Girls! Girls!" at the Cutts space in Toronto) and Eldon Garnet (who brought his metal sculptures based on Trump tweets to Art Toronto). Pieces by Mat Brown and Ron Martin round out the booth.
This post was corrected on December 8, 2017. The original copy suggested that Alex Bierk's works at the Mulherin booth would be paintings on canvas. They are, in fact, gouaches on paper.