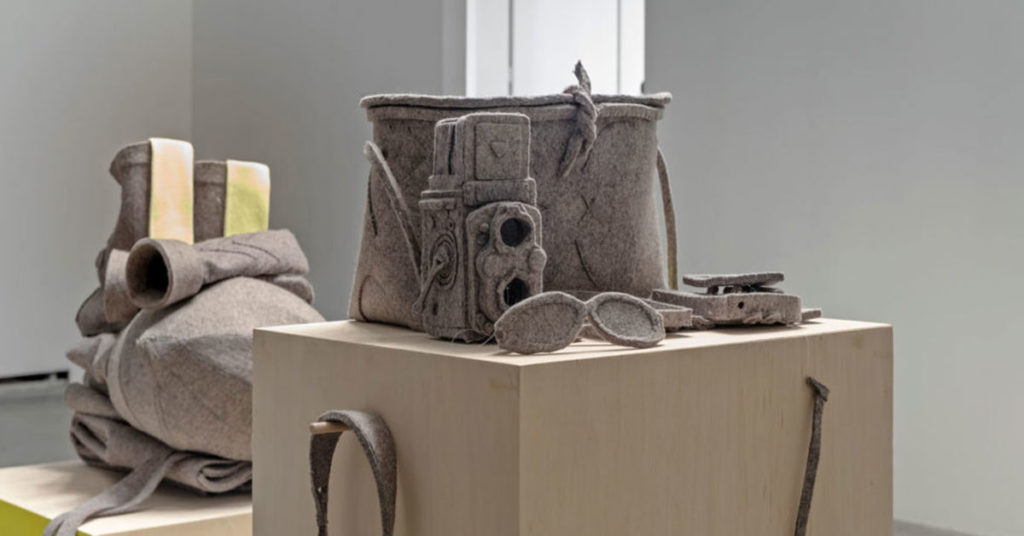 Maria Hupfield, "The One Who Keeps On Giving," 2017. Installation view at the Power Plant. Courtesy the artist. Photo: Toni Hafkenscheid.
Lots of great art exhibitions and events are taking place across the country this week. Here are our recommendations for debuting shows and events, and a few reminders about shows that are closing. Visit our Exhibition Finder for more listings of worthwhile shows that are already open.
HALIFAX
The MSVU Art Gallery presents Maria Hupfield's travelling exhibition "The One Who Keeps on Giving" on March 17, showing until May 13. This multimedia exhibition, which includes filmed performances by the artist, explores the subject of kin and interconnectedness. Joining Hupfield for a performance in the gallery on March 17 from 2 to 4 p.m. are artists Raven Davis, Ursula Johnson and Amy Malbeuf. Together, the artists will collaboratively animate works from within the exhibition's installation.
TORONTO
Julie Nagam's solo exhibition "the future is in the land" opens on March 15 at A Space Gallery. In this mixed media exhibition, Nagam casts a lens on the relationships we take for granted, namely our relationship with the environment. Trisha Baga's "Biologue" opens at Gallery TPW on March 15. In this two-part immersive video installation, Baga collages footage to present a layered reflection on space and history. Over at Birch Contemporary Renée Van Halm's "Lean Back" and Omar Badrin's "LUH!" also both debut on March 15. Meanwhile at Black Cat – Artspace "A Cape Winelands Experience – Photographs by Ray Pearson" will be unveiled on this same day, showing until March 28.
The Ryerson Image Centre hosts the symposium "Photography: The Black Box of History" on March 16 and 17. Presentations will explore the latest strands of technology and theorizing surrounding photography, while taking the history of the medium into account. Meanwhile, an exhibition of recent works by Ningiukulu Teevee debuts at Feheley Fine Arts on March 17. Elsewhere, MKG127 presents "The Shape of Things," an exhibition of new work by Joy Walker that explores repetition and patterning. An opening reception for this show will take place on March 17 from 2 to 5 p.m. Later in the week at Mercer Union, in the context of the current group exhibition "Common Cause: before and beyond the global," artist Jeneen Frei Njootli will give a performance where she creates a live soundscape on March 20 at 7 p.m.,
In closings, these are the last days to catch Allison Katz's "Diary w/o Dates," which wraps on March 18 at the Oakville Galleries.
PETERBOROUGH
Jeneen Frei Njootli's solo exhibition "I can't make you those mitts because there is a hole in my heart and my hands hurt" opens at Artspace on March 15 with a performance by the artist at 8 p.m., followed by a reception. Frei Njootli's latest show continues her use of sound to tell stories of embodiment and survival. The exhibition continues until April 21.
KINGSTON
Two new exhibitions open at the Modern Fuel Artist-Run Centre on March 17 with a reception from 7 to 9 p.m. In "The Drift Latitudes," Chun Hua Catherine Dong presents her latest immersive four-channel video work They as well as photographs and videos from her series "Mother." In "Nature FIXED," Jocelyn Purdie presents two of her latest series dealing with the environment and questions of ecology.
LONDON
Over at Museum London, curator Cassandra Getty gives a tour of the exhibition "Embodiment" on March 15 followed by an interview with Toronto artist Jessica Karuhanga. The event takes place from 6:30 to 9 p.m.
MONTREAL
Galerie AVE presents "Wake, Girl" by Ariane Fairlie on March 15. Through paintings, prints and photography mostly produced during the winter season, Fairlie addresses feelings of depression and isolation, while charting how she works through these emotions with art-making. Over at SBC Gallery, the event "She, the many-voiced one of one voice" takes place on March 15 at 7 p.m., for which M. NourbeSe Philip, Cecily Nicholson and Mercedes Eng will give readings of their work. Meanwhile, La Centrale Galerie Powerhouse presents "In Progress" by Candice Davies on March 16. In this show, Davies' inconspicuous art objects work to interrupt the authority of the gallery.
On March 17, the Musée d'art contemporain de Montréal will host a Wikipedia Edit-a-thon from 12:30 to 5 p.m. to update the popular database with under-represented artists. Later on March 20, the Musée des beaux-arts de Montréal will host the talk "The Black Madonna" by Theaster Gates at 6:30 p.m., organized by DHC/ART Foundation for Contemporary Art and Art Speaks. In this talk, Gates will discuss the newest research he has undertaken for his expansive project "The Black Madonna" and upcoming developments with the work.
In closings, Hannah Claus's "earth. sea. sky. constellations for my relations" at Montréal, arts interculturels (MAI) and the group exhibition "Vies performatives / Performing Lives" at OPTICA Centre d'art contemporain both wrap on March 17.
SASKATOON
AKA artist-run presents "Silent Citizen," a participatory installation by artist duo Bambitchell, on March 16 with a reception at 8 p.m. This sound and video exhibition investigates Canadian immigration policy and language tests, questioning the state's citizen-making processes.
CALGARY
The inaugural commercial art fair Art Calgary launches at cSPACE this week, running from March 15 to 17. The juried-show will feature 16 contemporary Calgary artists. Elsewhere, Jarvis Hall Gallery presents "DIFFICULT TERRAIN," a solo exhibition by Patrick Dunford, on March 16 with a reception at 5 p.m. Dunford's works present landscapes from British Columbia and southern California, both places in which he spends time, charting the effect of human activity on these areas. Over at Newzones, Michael Batty and Kristofir Dean's paintings debut in "Line & Colour" on March 17.
A closing reception for Humboldt Magnussen's exhibition "Witness" at Untitled Art Society will be held on March 15 at 6 p.m. The exhibition wraps later on March 31.
EDMONTON
Julian Forrest's solo exhibition "This Is Not A Century for Paradises" opens at the Peter Robertson Gallery on March 15 at 7 p.m. Forrest's latest figurative paintings present interweaving narratives that stem from the artist's personal memories. Later on March 17, Forrest will give a Q&A at the gallery at 4 p.m. Meanwhile, dc3 Art Projects, in partnership with Winnipeg's Lisa Kehler Art & Projects, presents work by Aganetha Dyck on March 15. With both handmade and readymade objects, Dyck interweaves absurdity within her works to create a humoristic commentary on life around her.
VANCOUVER
Julia Feyrer's "Background Actors" debuts at Catriona Jeffries on March 15. In Feyrer's latest works, she presents film as well as objects relating to her films to look at what happens behind the scenes. Later during the week, the West Vancouver Museum launches "Vestige: Selections from the Kazlaw Collection" with a reception on March 20 from 7 to 9 p.m. This exhibition looks at photographic works by artists who debuted their career in Vancouver. Exhibiting artists include Roy Arden, Karin Bubaš, Owen Kydd and Evan Lee, among others.
In closings, Tiziana La Melia's exhibition "The Pigeon Looks for Death in The Space Between the Needle and the Haystack" at Unit 17 ends on March 17.
WINNIPEG
Plug In Institute of Contemporary Art presents its next Respondent Series workshop "EXPERIMENTAL CONVERSATION AND SEMI-ACCIDENTAL PERFORMANCE" with artist Ray Fenwick on March 15 at 7 p.m., in link with Skeena Reece's current exhibition "Sweetgrass and Honey." Participants are invited to explore linguistic and sound experiments in conversation by way of performance. Reece's "Sweetgrass and Honey" will wrap later on March 18.
VICTORIA
Deluge Contemporary Art presents the first part of "The State of Things (in two parts)" by James Lindsay and Lance Austin Olsen, with work by Lindsay unveiling on March 17 (while Olsen's will show in April). Lindsay debuts 19 new paintings that vocalize his musings on the environment and existence. Over at the Madrona Gallery, the latest exhibition of works by Nicholas Bott debut on March 17 with a reception from 1 to 4 p.m. Influenced by Van Gogh and the Group of Seven, the Vancouver-based artist will present his latest landscape paintings.
A clarification was made to this post on March 16, 2018. The clarification was made to note that Aganetha Dyck's show at dc3 in Edmonton is also co-presented by Winnipeg's Lisa Kehler Art & Projects.