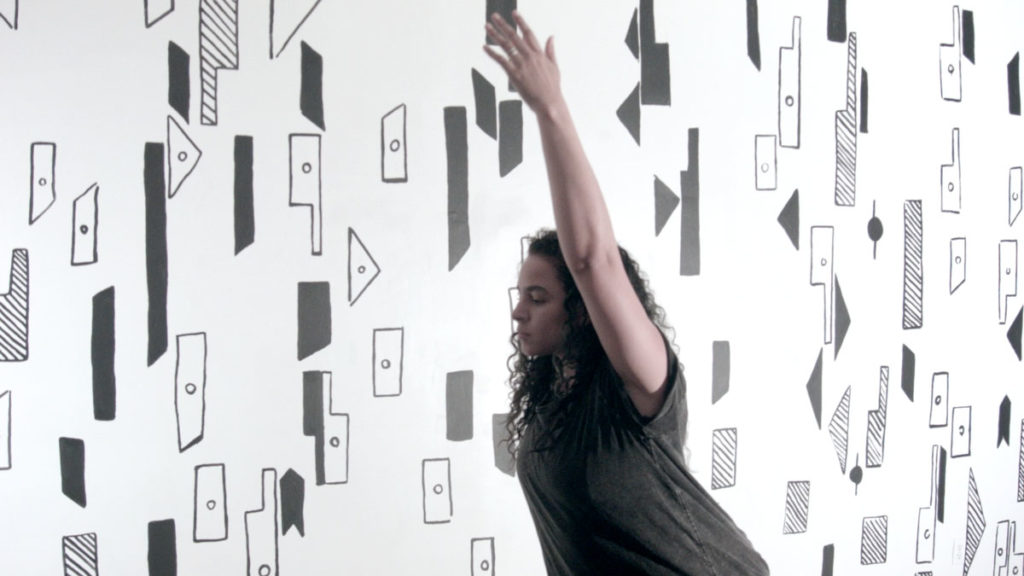 Lou Sheppard, A Strong Desire, 2018. Rehearsal direction and performance by Leelee Eko Toyosi Davis. Courtesy the artist.
Lots of great art exhibitions and events are taking place across the country this week. Here are our recommendations for debuting shows and events, and a few reminders about shows that are closing. Visit our Exhibition Finder for more listings of worthwhile shows that are already open.
HALIFAX
Khyber Centre for the Arts presents "A Strong Desire," a show marking the culmination of Lou Sheppard's month-long artist residency. In this exhibition, Sheppard explores the notion of the lacuna—the space in-between two languages—as a queer space. The artist makes this exploration literal by undertaking a choreographic translation of the Diagnostic and Statistical Manual of Mental Disorders (DSM-5) text, which is the diagnostic rubric for gender dysphoria. An opening reception for the show takes place from 6 to 9 p.m. on April 27 and will feature a live performance of Sheppard's dance notation by Leelee Eko Toyosi Davis.
Meanwhile at Hermes, a closing reception for Frankie Macaulay's "How to Fold" will take place on April 27 at 6 p.m. Macaulay will showcase the works created while on residency at the gallery during the month of April, and detail the experimental processes the artist undertook.
OTTAWA
The Ottawa Art Gallery is back, and bigger than ever! With the new expansion now complete in time to celebrate its 30th anniversary, the OAG unveils the inaugural exhibition "Àdisòkàmagan / Nous connaître un peu nous-mêmes / We'll all become stories" in its new building on April 28. This comprehensive show will feature 181 artists and honour 6,500 years of art production in the Ottawa-Gatineau region. A full roster of events will take place to celebrate the inauguration weekend on April 28 and 29.
Elsewhere, the Karsh-Masson Gallery presents Jennifer Anne Norman's "Forest for the trees" on April 26, delving into considerations of ecological concerns through the symbolization of tree limbs. A joint vernissage for both Norman's show and Jordan Seal's exhibition "Wealth of the Eternal Garden" currently showing at City Hall Art Gallery will be held on April 26 at 5:30 p.m.
In closings: the momentous exhibition "Canadian and Indigenous Art: 1968 to Present" ends on April 30 at the National Gallery of Canada. These are also the last days to catch the winter exhibitions at the Carleton University Art Gallery—including  Robert Houle's "Pahgedenaun," Sun K. Kwak's "Untying Space_CUAG" and Linda Sormin's "Fierce Passengers"—which all wrap on April 29.
TORONTO
The Scotiabank CONTACT Photography Festival launches across the city with an extensive roster of exhibitions, public installations and discussions. The Ryerson Image Centre will host the official launch of the festival on April 27 with a celebration from 7 to 11 p.m. The RIC presents an exhibition by Shelley Niro, last year's Scotiabank Photography Award winner, which will showcase the artist's wide-ranging career. Other exhibitions launching at the RIC are "Acts that Fade Away" featuring a silent video work by Nadia Myre; the public installation "newlandia: debaabaminaagwad" by Scott Benesiinaabandan considering forms of memorialization; as well as Ryan Walker's "Voices in the Wilderness," which documents a small island in the Salish Sea.
Additional exhibitions opening at other locations as part of CONTACT this week include: Sam Cotter's "Day for Night" at Zalucky Contemporary; Richard Mosse's "The Castle" at Arsenal Contemporary; "Cutting a Figure: Black Style Through the Lens of Charles 'Teenie' Harris" at BAND Gallery; Felicity Hammond's "Arcades" at CONTACT Gallery; Erwin Blumenfeld's "From Dada to Vogue" at the Corkin Gallery; Tina Berning and Michelangelo Di Battista's "Confluence II" at Alison Milne Gallery; the group show "Red Light" at the Lonsdale Gallery; and much more. The Art Gallery of Ontario hosts a free panel discussion with artists featured in the festival on April 29 from 3 to 5 p.m. Moderated by CONTACT's artistic director Bonnie Rubenstein, guest speakers Scott Benesiinaabandan, Charlie Engman, Felicity Hammond, Caroline Monnet and Marleen Sleeuwits will discuss their artistic practices, their current site-specific projects and their considerations of location.
Meanwhile, the Art Museum at the University of Toronto presents the group show "Weight of Light" on May 2, showcasing artworks that critically investigate notions of light and the use of light as a medium. Curated by Darryn Doull, the featured artists are Bas Jan Ader, Brion Gysin, Lee Henderson, Étienne-Jules Marey, Isabel M. Martínez and James Nizam. Elsewhere, two new exhibitions open at Birch Contemporary on April 26: Sean Ross Stewart's "Mother's Foundry" and Mitch Robertson's "Tourist." At Loop Gallery, Libby Hague's "Wider than the Sky" and Tara Cooper's "On Sabbatical (aka it's hard to be self-directed when you're pulled in so many different directions)" launch on April 28. Later in the week, the photographic exhibition "Flatland" by digital artist Aydin Büyüktas opens at Matter Gallery on May 2.
For its 33rd edition, this year's Mayworks Festival of Working People and the Arts takes "Workers Futurism" as its theme. Happening across various venues until May 5, the festival consists of exhibitions, film screenings, workshops and panel discussions. Notable events taking place this week are: the Future Conditions workshop led by Sheila Sampath at The Public Studio on April 29; the opening reception for Kara Manso's exhibition "The Future is Caregiving" on May 1 at Whippersnapper Gallery; and "Dreamweavers," a short-film program, presented in partnership with ImagineNATIVE on May 2.
CALGARY
Jarvis Hall Gallery presents the solo exhibition "THE WEIGHT & THE WEEPING" by Marigold Santos on April 27. This show continues Santos's interdisciplinary considerations of identity-making and storytelling through modes of otherworldly narratives and folklore. A reception will take place from 5 to 9 p.m. on opening day. Over at VIVIANEART, "Perennials" by Winnie Truong also debuts on April 27. In this latest series, Truong presents surreal paper collage figures, coloured in pencil crayon.
MONTREAL
Projet Pangée launches an exhibition of work by Sky Glabush on April 26. Glabush's multifaceted work explores the depth of the imagination through various mediums, including drawing, textiles, painting and sculpture. Over at La Centrale, the solo show "Sticky Feelings" by Alanna Lynch launches on April 27. Working with a medley of biological and living organisms as materials, Lynch challenges notions of containment and crossing boundaries by coming face-to-face with feelings of disgust. The annual exhibition "IGNITION" by Concordia University graduate students debuts at the Leonard and Bina Ellen Art Gallery on May 2.
In Laval, Verticale — centre d'artistes is celebrating its 30th anniversary with a series of events, including an unearthing of its archives to highlight important moments from its history. As part of the events, an intergenerational roundtable hosted by Jacinthe Robillard will take place on April 30 at 2:30 p.m. to reflect on the centre's role within the community. Participating speakers are Emmanuelle Choquette, Laurent Lamarche, Louise Prescott, Danielle Raymond and Pablo Rodriguez. Also organized by the centre, artist Jamie Ross and his collaborators will present the first part of his project "Unscrew the locks from the doors! (A Liberation Spell)" with a carnivalesque walking Beltane ritual in the Saint-Vincent-de-Paul village on April 29 from 1 to 3 p.m.
VANCOUVER AND AREA
Centre A hosts a talk and Q&A with visiting artist Tiffany Chung on April 27 at 3 p.m. Chung will discuss her practice and engagement with contemporary and historical instances of conflict and migration. Elsewhere, the vocal ensemble musica intima will perform Wetland Senario—the musical work in link with Stephen Morris and Mark Timmings' Wetland Project currently installed at VIVO Media Arts Centre—on April 28 at noon and 4 p.m. at Griffin Art Projects and then at 7:30 p.m. at the Contemporary Art Gallery. On the following day on April 29, the CAG and the Polygon Gallery present a talk by art historian and theorist Kaja Silverman entitled "The Three-Personed Picture" at 6 p.m. Silverman will discuss research she undertook for her upcoming book The Three-Personed Picture, or the History of Photography, Part 2, and her talk is connected to the current exhibition "The Blue Hour."
East of the city in New Westminster, the New Media Gallery launches the group exhibition Trace on April 27, which focuses on human-technological interactions and how technology translates human experience and behaviour. Featured artists are Patrick Tresset, Gregory Chatonsky and artist duos Arnauld Colcomb + Bertrand Planes and So Kanno + yang02. Part of the exhibition is Tresset's Human Study #1 – 5RNP, a project where five robots named Paul will sketch human sitters. A reception featuring artist talks will take place on opening day at 6:30 p.m.
At Wil Aballe Art Projects, Scott Billings will give a tour and discussion about his exhibition "Skull Practice" on April 28 at 2 p.m., which ends on this same day. Also in closings: the Polygon Gallery's inaugural exhibition "N. Vancouver" ends on April 29.
WINNIPEG
Plug In Institute of Contemporary Art presents a screening of Mimesis of Mimesis (2016) and Linnæus in Tenebris (2017), two performance-based video works by Naufus Ramírez-Figueroa on April 26 at 7 p.m. Highlighting Ramírez-Figueroa's investment in performance, the screening is related to with the artist's current exhibition "Shit-Baby and the Crumpled Giraffe."
Meanwhile, the new project space Blinkers Art and Project Space presents their inaugural exhibition "History Works Itself in All Directions" on April 27 with a reception from 7 to 11 p.m. Featuring Ian August, Noor Bhangu, Alexis Dirks, Duncan Ferguson, Julian Hou and Luther Konadu, this multimedia group show explores alternative modes of history-recording.
KINGSTON
The Agnes Etherington Art Centre has several new exhibitions launching this week: Chris Kline and Yam Lau's "Weave"; "Artists at Work: Picturing Practice in the European Tradition"; Gabrielle Kilian Sims's "Hook"; "Charles F. Gibson: Events of a Military Life in Kingston"; and "The Art of African Ivory." All kick off on April 28.
LONDON
"BGL: Spectacle + Problems" opens on April 28 at Museum London. In this show, the BGL collective—comprised of Jasmin Bilodeau, Sébastien Giguère and Nicolas Laverdière—continue to challenge the gallery as a white cube space by engaging with its architecture and creating large-scale installations using such objects as vehicles and vertical blinds. The exhibition will also feature past works by the collective, including works on loan from the National Gallery of Canada, the Musée des beaux-arts de Montréal and the Musée national des beaux-arts du Québec.
EDMONTON
Two new exhibitions debut at the Art Gallery of Alberta on April 28. In "LandMark," newly acquired works by artists Brenda Draney, Tanya Harnett and Terrance Houle will be presented, which depict the artists' respective experience of their nearby home territories. In "Hubert Hohn: Edmonton Entrances and Suburban Landscapes," two photographic series created by Hohn during the 1970s will be on view.