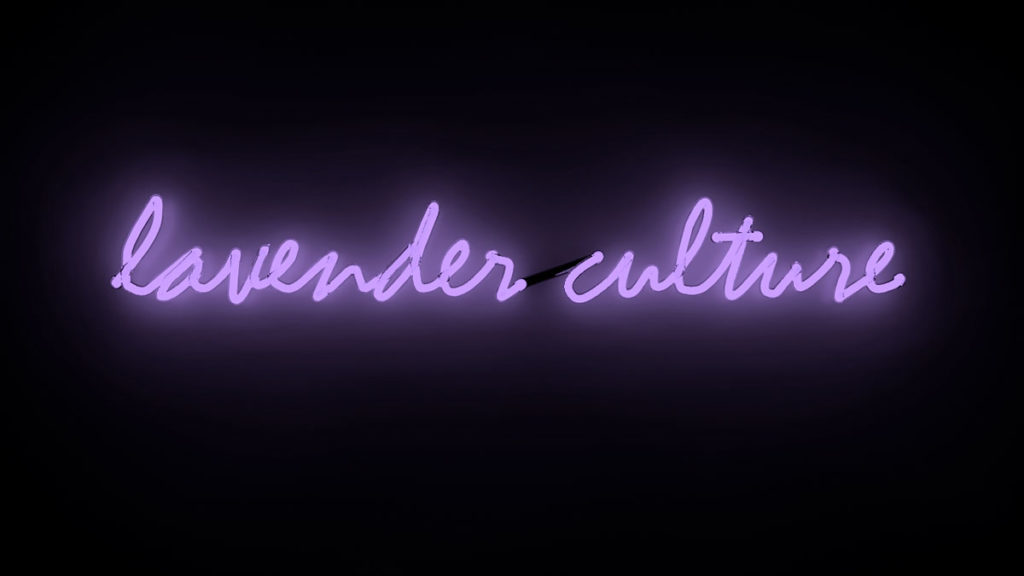 Adrienne Crossman's neon will be included in the exhibition "'°º¤ø,¸¸,ø¤º°`°º¤ø,¸MeMe PoOl / DrEaM PoOl°º¤ø,¸¸,ø¤º°`°º¤ø" at 8eleven Gallery in Toronto, a duo show with ceramist Kaley Flowers.
Lots of great art exhibitions and events are taking place across the country this week. Here are our recommendations for debuting shows and events, and a few reminders about shows that are closing. Visit our Exhibition Finder for more listings of worthwhile shows that are already open.
TORONTO AND AREA
Works by Kaley Flowers and Adrienne Crossman debut at 8eleven in "'°º¤ø,¸¸,ø¤º°`°º¤ø,¸MeMe PoOl / DrEaM PoOl°º¤ø,¸¸,ø¤º°`°º¤ø" on March 9, launching with a reception at 7 p.m. In this exhibition, multimedia work by Crossman and ceramics by Flowers are both influenced by cyber aesthetics, and together offer an exploration of digital cultural realms. Over at the Aga Khan Museum, the exhibition "The World of the Fatimids" opens on March 10, celebrating this historic civilization well renowned for its cultural production in the 10th and 11th centuries. This marks the first showing of this collection in North America. In collaboration with the Myseum Intersections Festival, Sur Gallery presents the exhibition "Life In Flight" on March 8. This multimedia group show—featuring Toronto-based artists Laura Barrón, Guillermina Buzio, Jorge Lozano, Susana Reisman and Lorena Salomé—deals with notions of time, movement and loss, as well as the immigrants' embodiment of the past. Over at Franz Kaka, the exhibition "Behind the Eyes" by Scott Rogers also opens on March 8, with a reception at 6 p.m. In this new installation, the Glasgow-based artist explores how power shapes interactions between humans and animals.
On March 9, Jonathan Shaughnessy, associate curator at the National Gallery of Canada, presents the lecture "From Art Metropole to the 2017 Canadian Biennial: 'Canadian' Art and the Global Contemporary" from 12:30 to 2 p.m. at the University of Toronto's OISE Building. Shaughnessy will contextualize how the national interacted with the transnational in three recent exhibitions he has curated at the NGC. Later on March 10 at the Art Gallery of Mississauga, guest curator Rhéanne Chartrand will give a tour of the current group exhibition "niigaanikwewag" at 1 p.m.
The Margin of Eras Gallery presents the culmination of the Habitat project in a live performance on March 8 from 8 to 11 p.m. Led by musician Matthew Progress, the project brings together musicians who will present their work in the context of the gallery alongside multimedia visual installations. Meanwhile at Nicholas Metivier Gallery, "Greg Hardy: Sky Poems, La Ronge" debuts on March 8, in which Hardy centres the landscape of Lac La Ronge in Saskatchewan. Elsewhere, Níall McClelland's "Hot Takes, No Sax" launches on this same day at Clint Roenisch Gallery. On March 14, the Ryerson Image Centre in partnership with Gallery 44 hosts the artist talk "Can I have a say in this narrative?" by Alia Youssef from 6 to 8 p.m. In link with the current exhibition "Collaboration: A Potential History of Photography," Youssef will discuss her photographic projects—notably The Sisters Project and her participation in the Muslim Girl x Getty photography campaign—as well as the depiction of Muslim women in Western media.
MONTREAL
Galerie D'Este presents the exhibition "Undisclosed Locations" by Peter Harris on March 8. Harris' latest paintings take public interior spaces as their subject, exposing both their anonymity and familiarity. Over at Art45, new photographic works by Angela Grauerholz debut in "The Empty S(h)elf" on March 10 with a reception at 3 p.m. In this exhibition, Grauerholz presents the viewer with images of museums and libraries devoid of their usual content, making us reconsider the nature of these spaces.
Meanwhile at Galerie d'Art d'Outremont, work by Erik Nieminen debuts in "ABOVE BELOW" on March 8. Later during the week, the Leonard and Bina Ellen Art Gallery hosts a discussion between curator Katrie Chagnon, and artist jake moore on March 13 at 5:30 p.m., in conjunction with the current exhibition "Qui parle ? / Who Speaks?"
VANCOUVER
Antonia Hirsch's "dialog II" opens at Republic Gallery on March 9 with a reception from 6 to 8 p.m. In this new work by Hirsch, titled after the Siemens dialog II pacemaker, the artist explores the notion of "setting the pace" through various mediums and tools. On March 10, the Morris and Helen Belkin Art Gallery hosts an Art+Feminism Wikipedia Edit-a-thon—an annual event organized around the globe to counter gendered and racialized exclusions in the historicization of art—from noon to 5 p.m. This specific Edit-a-thon is connected to the gallery's current exhibition "Beginning with the Seventies: GLUT," which considers the ever-growing surplus of the archive. Folks of all genders are welcome. Elsewhere, the Monte Clark Gallery presents new work by Holger Kalberg on March 8, running until April 3.
Meanwhile, the Polygon Gallery hosts a weekend of events around Salish weaving. On March 10, a tour of the current exhibition "N. Vancouver" will take place at 1 p.m. followed by a weaving demonstration from 2 to 4 p.m. during which artist Melvin Williams will demonstrate traditional Salish weaving techniques. Later on March 11, the gallery hosts a discussion titled "Interweaving N. Vancouver" at 1 p.m., which will explore the revitalization of Salish weaving. The featured speakers are Xwemilut—Lisa Lewis, Katxínamet—Shelley Thomas and Williams, moderated by Chief Janice George of the Squamish Nation.
CALGARY
The Untitled Art Society will also host a communal Art+Feminism Wikipedia Edit-a-thon on March 10, which will take place from 11 a.m. to 6 p.m. The Glenbow unveils its new exhibition "The Artist's Mirror: Self Portraits" on March 10, featuring a multiplicity of self-portraits from different eras. The exhibition seeks to reflect on this long-standing practice in our current selfie era. Curated by Sarah Todd, the works featured originate from both the museum's and Library and Archives Canada's collections. Featured artists include Emily Carr, Norval Morrisseau, Yousuf Karsh and Alma Duncan, among others.
Over at Herringer Kiss Gallery, two new exhibitions debut on March 8. In "Devotions," Renée Duval presents new paintings created from collages, while in "'Esti Mese' Sculptures from a Bedtime Story" Eszter Burghardt showcases fictional characters made from felt.
WINNIPEG
Tracy Peters will give an artist talk at Gallery 1C03 on March 14 at 12:30 p.m. connected to her exhibition "Littoral Landscape" currently showing at the gallery.
HALIFAX
A tour of Marlene Creates' current exhibition "Places, Paths, and Pauses" at the Dalhousie Art Gallery will be given by the artist and co-curator Susan Gibson Garvey on March 10 at 2 p.m.
CAMBRIDGE
The Cambridge Art Galleries launches "Transformed Through Touch" on March 9, a project in collaboration with the deaf/blind community and artists Gareth Lichty, Gary Kirkham and Meghan Sims. The cumulative installation at the centre's Queen's Square Gallery space will seek to engage the different senses with sound, tactility and visuality to create a more accessible and immersive experience. The exhibition continues until April 8.