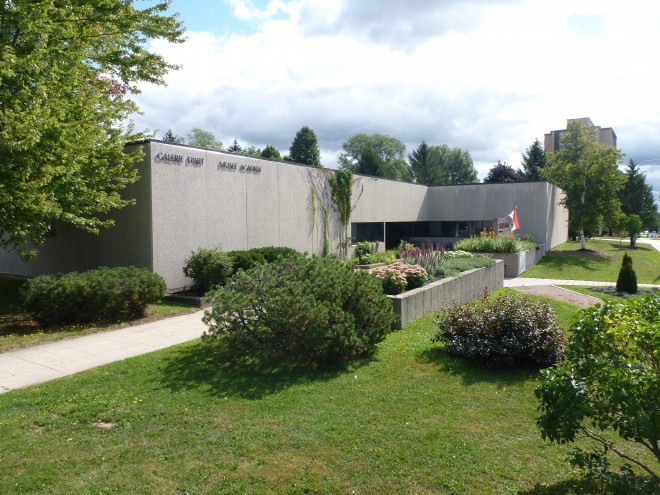 Galerie d'art Louise-et-Reuben-Cohen is a university art gallery associated with the Université de Moncton, Canada's largest French-language university outside Québec.
Since its inception in 1964, the Art Gallery has become a key element in the Acadian Renaissance in visual arts. Its mission is to present Acadian artists to the world, while featuring contemporary Canadian programming. The gallery's programming, consisting of exhibitions, publications, artistic events in the public space, lectures, round tables, workshops, artist residencies, and film and video screenings, is designed with the view of animating a community around visual arts and fostering dialogue on artistic practices. Overall, the exhibition programming aims at presenting quality works that resonate with the community and today's society, focused on artistic innovation, research and experimentation.
The gallery supports the development of visual arts in the community by organizing major exhibitions featuring the works of professional artists from New Brunswick who are well-established or midway in their artistic career. It also features artists from outside the province, particularly Canadian artists whose work has had an impact in the region or has somehow inspired the work of local artists.
Galerie d'art Louise-et-Reuben-Cohen has the sole mandate of collecting Acadian art. Today, its collection includes nearly one thousand works of art, a quarter of which are permanently exhibited in various buildings on the university's Moncton campus. The gallery's body of work may be modest in size, but it is rich in its importance to New Brunswick heritage, reflecting the history of modern and contemporary art in the province with a particular focus on Acadian art. The gallery was renamed in 2005 in order to honour Reuben Cohen and his wife Louise, who had generously donated artworks and established a trust fund in their name for the purpose of acquiring new works.
Galerie d'art Louise-et-Reuben-Cohen is located in the Clément-Cormier Building of the Université de Moncton's Moncton campus, alongside the Acadian Museum.