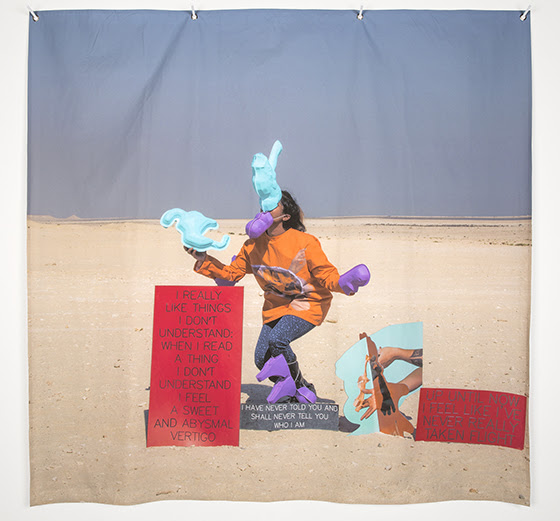 Chloë Lum & Yannick Desranleau, I really I want Time for A lie – I really, 2016. Inkjet on canvas, grommets. Courtesy Galerie Hugues Charbonneau.
Galerie Hugues Charbonneau
It's hard to believe that it's been only five years since Hugues Charbonneau opened his eponymous gallery in Montreal's Belgo Building. Charbonneau has, after all, been a fixture on the Montreal art scene since the late 1990s, first working with the artist-run centre Skol and Esse magazine, then moving on to the blue-chip Galerie de Bellefeuille, and finally acting as co-director of Galerie Division, before striking out on his own in 2012.
A trained artist himself, Charbonneau sees his gallery as a kind of extension of the artist's studio, a laboratory of sorts designed to give artists the freedom to experiment and create, rather than produce. To mark that five-year anniversary, Charbonneau's booth will be packed with works by all of the gallery's artists: Guillaume Adjutor Provost, Benoit Aquin, Cynthia Girard-Renard, Trevor Gould, Isabelle Hayeur, Julie Trudel and Karen Tam, among others. Of particular note is a selection of sculptures by Maria Hupfield (whose work was featured this spring at the Power Plant and is the subject of a major article in the current Indigenous art–focused issue of Art in America) as well as new photo works by Alain Paiement and the always inventive duo Chloë Lum and Yannick Desranleau.—Bryne McLaughlin, senior editor
Night Gallery
If I could head anywhere right now, I might escape the first signs of winter that are starting to creep in and head to the West Coast. This weekend, though, Art Toronto will offer a chance for escapism with the FOCUS: Los Angeles section. I'm looking forward to all of it, including curator Santiago Vernetti's group show "And The Sky is Grey," which even includes a microcinema. But it's the booth of Night Gallery, helmed by Canadian Davida Nemeroff, that will be first on my list.
In particular, I can't wait to see Rachelle Sawatsky's paintings, which Night Gallery is bringing. They're figurative and almost mystical—something in the odd arrangements of animals, plants and space reminds me of Florine Stettheimer—and even if a little LA in Toronto isn't enough to take me away, I know that Sawatsky's otherworldly arrangements will do the trick.—Caoimhe Morgan-Feir, managing editor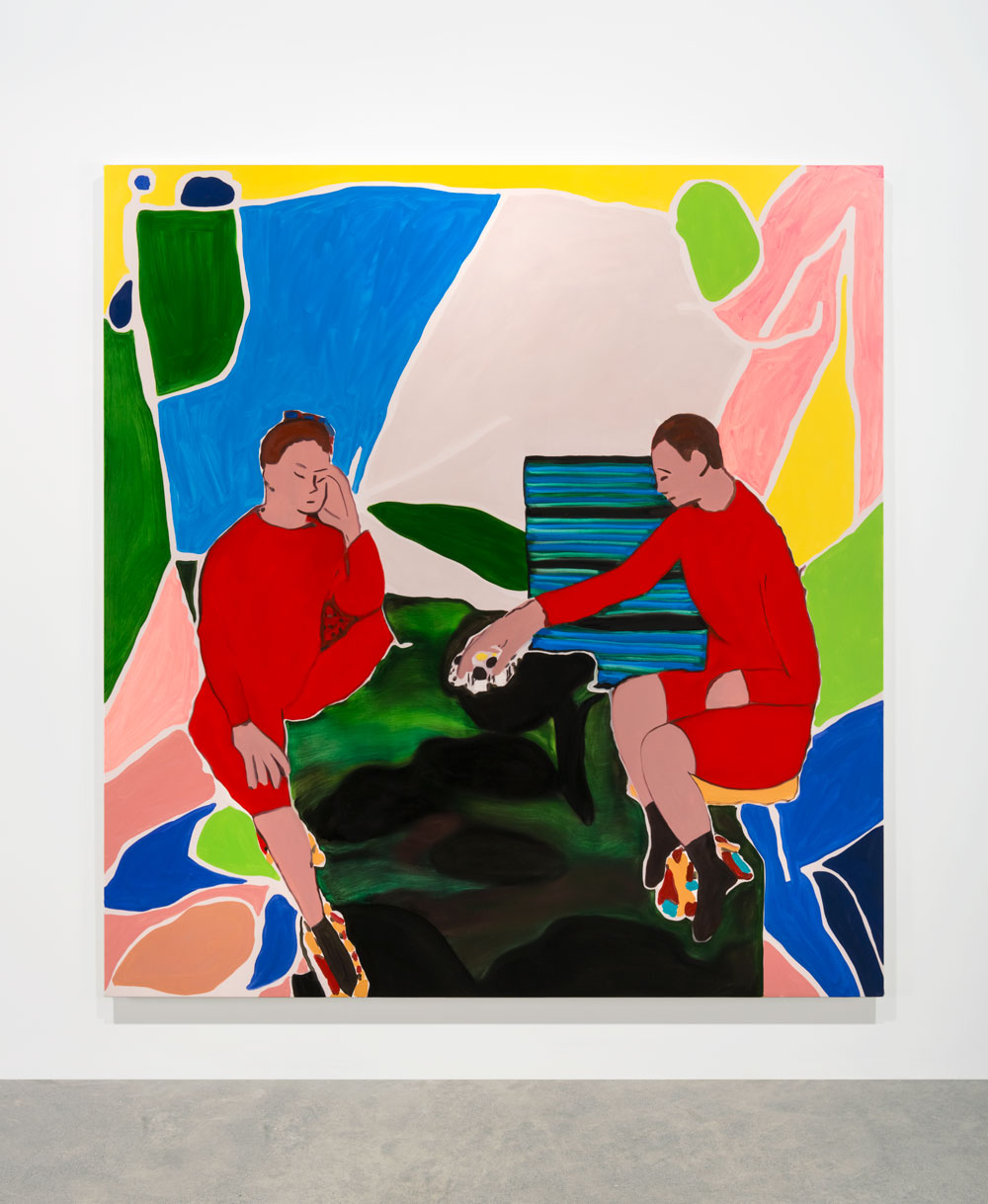 Elizabeth McIntosh, Chess Players, 2017. oil on canvas, 76 x 71 inches. Photo: SITE Photography. Courtesy of Catriona Jeffries.
Catriona Jeffries
It's been great to see more Vancouver galleries at Art Toronto in recent years. Vancouver is, I'll still argue, Canada's best-known art city internationally, and anyone who cares about art in our country should keep an eye on what its artists, curators and dealers are doing.
And so, when I head to Art Toronto this year, I will certainly be checking out booths for Monte Clark, Wil Aballe Art Projects, Equinox and other key Vancouver galleries. But my first stop will probably be Catriona Jeffries, who is finally making a return to the show after seven years away, and who represents notable locals including Geoffrey Farmer (still showing at the Venice Biennale too, of course), Brian Jungen, Ron Terada and Elizabeth McIntosh, among others.
Jeffries bringing some 70 works to the fair—many of which are notable, have not been seen in Toronto, or have not yet been exhibited at all, anywhere. These include Brian Jungen's large Warrior Two sculpture, one of his more recent reworkings of Nike sneakers; sculptures by Valérie Blass exhibited at the Biennale de Montréal; and selections from Ron Terada's current paintings of Internet news headlines, which are both witty and sad, in fitting with much of his oeuvre. New work from Liz Magor created during a recent residency overseas is also on tap, as are Elizabeth McIntosh's fresh chess players canvases, and pieces from expat Christina Mackie, who has not shown much in Canada since her Tate Britain commission of 2015.—Leah Sandals, managing editor, online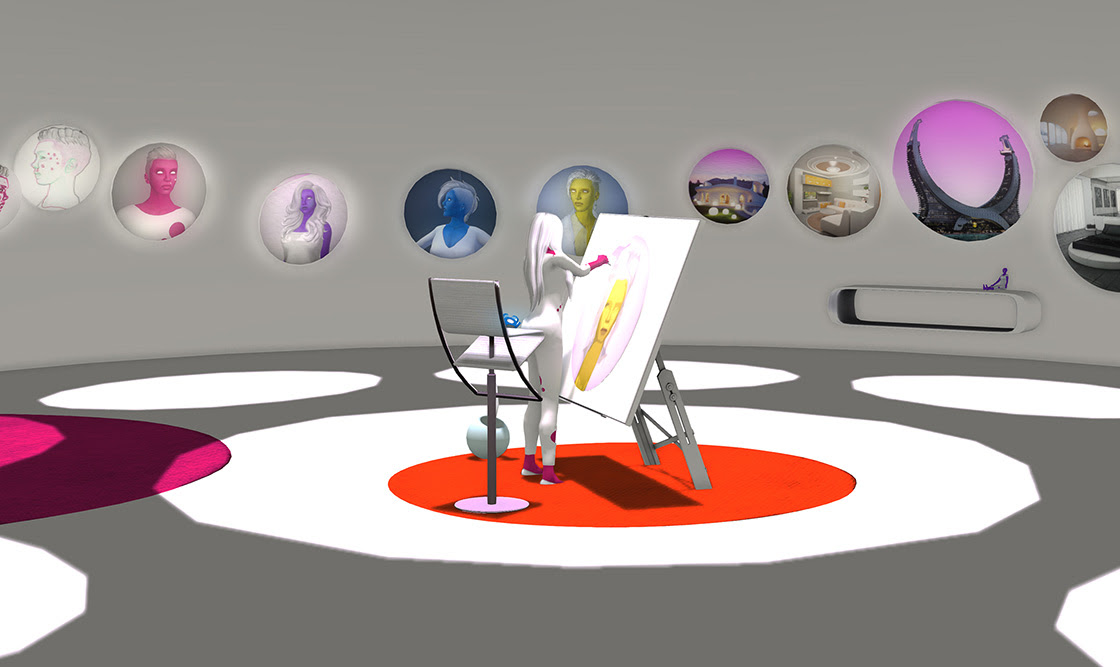 Skawennati, The Artist in Her Studio : She Falls for Ages (detail), 2017. Machinimagraph, 33.75 x 60 inches. Courtesy Ellephant.
Skawennati at Ellephant
This year, Montreal's Ellephant will show a selection of Skawennati's photo and video works. For many of her projects, Skawennati uses the technique of machinima: making movies entirely in a virtual environment. I first noticed the Mohawk artist's work at the Biennale de Montréal in 2014. The theme was looking forward and showed several episodes from her TimeTraveller™ series, which were created entirely on Second Life. The nine-episode series follows the Mohawk protagonist Hunter, a time traveller from 2112, as he visits historic events significant to First Nations through time, such as the Oka Crisis and the occupation of Alcatraz Island.
Skawennati works mostly in the virtual sphere, her creations offering a wide range of alternative ways to inhabit cyberspace, as well as unique criteria of online territoriality. In 1997, she co-created Cyber PowWow, a virtual Indigenous gallery built in the chatrooms of the Palace, and she co-runs Aboriginal Territories in Cyberspace, a research project that explores and educates around Indigenous virtual environments. Earlier this year, Skawennati was selected to participate in a digital exhibition at the Venice Biennale alongside Canadians Jon Rafman and Pippin Barr.—Yaniya Lee, associate editor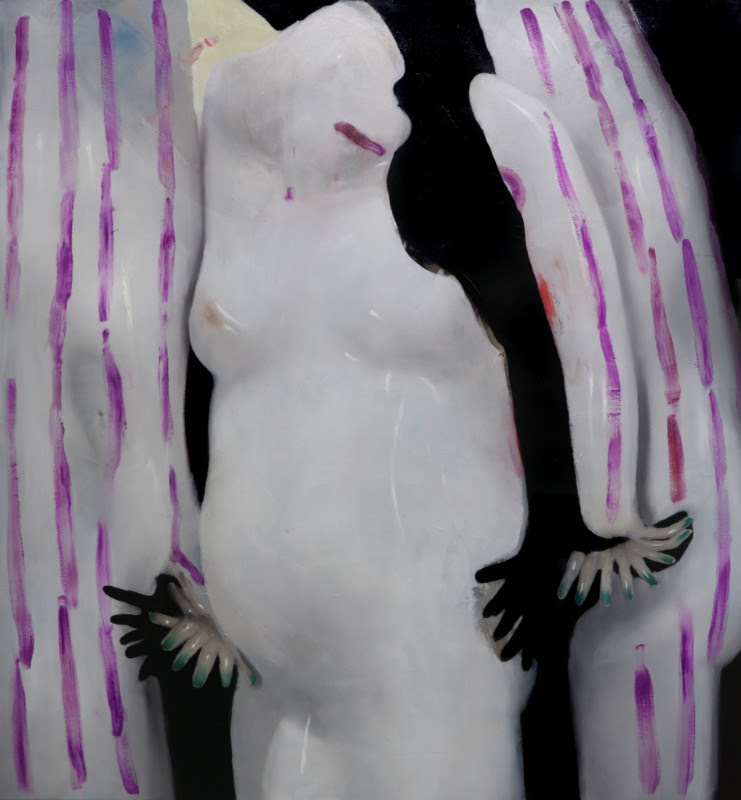 Ambera Wellmann, Love Fingers, 2017. Courtesy Trépanier Baer.
Ambera Wellmann's solo booth, presented by Trépanier Baer
I've already waxed poetic over Ambera Wellmann's work, and you probably already follow her on Instagram, but I really can't wait to see the 2017 RBC Painting Competition winner's solo feature. Her award-winning RBC work Temper Ripened epitomizes the tense play between perversion and prudishness that has come to be so characteristic of her prolific output​.​ Wellmann superimposes a pristine porcelain swan, bending over backwards, with crude scrawls of a woman masturbating, a man receiving fellatio, a threesome, and other ​sex acts you only see her slyly alluding to in her Instagram with her body and with carrots and pickles and Crocs.—Merray Gerges, assistant editor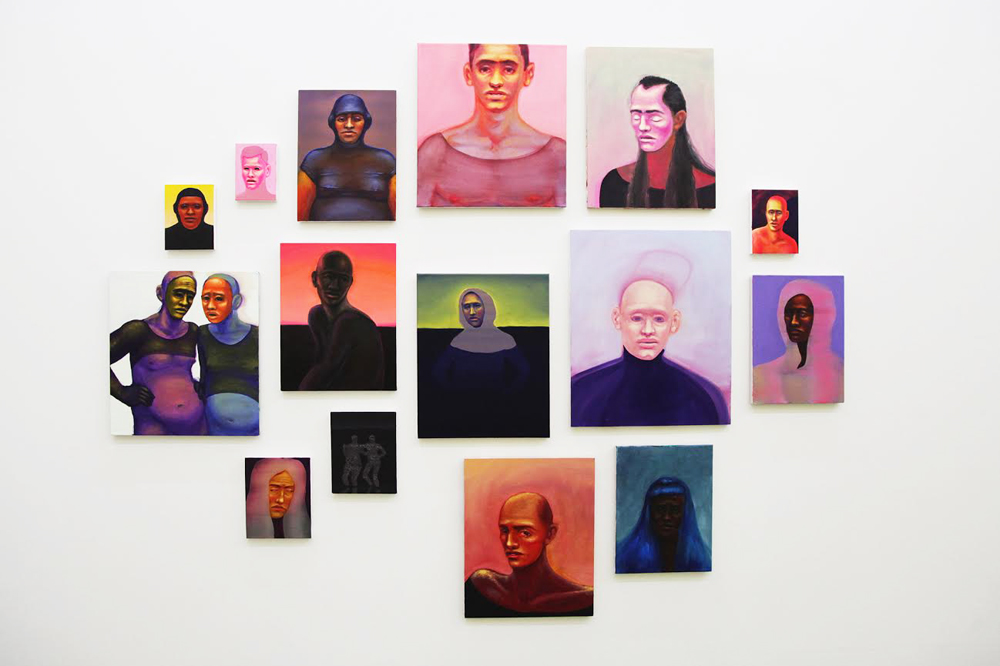 Travis McEwen, The Arch: Plans for a Heterotopic Space Opera, 2017. Installation view. Courtesy of dc3 Art Projects.
Travis McEwen at dc3 Art Projects
The first and only time I have experienced Travis McEwen's work in person was in 2014 when it was shown at Montreal's La Centrale Galerie Powerhouse in his exhibition "Bowl Cuts and Rat Tails: A Radiant Heterotopia." I was instantly drawn in by McEwen's vibrant use of colour—I find his application of glowing hot pinks dazzlingly surreal—but what held my attention was McEwen's empowering portrayals of queer subjects. In his practice, he consistently explores notions of queerness and being "othered," using painting as a way to dilute the binaries of gender and sexuality. McEwen continues his pursuit of queer portraiture in his latest series (and recent exhibition) "The Arch: Plans for a Heterotopic Space Opera," works from which will be shown in the dc3 Art Projects booth at Art Toronto 2017.
What is new for the Albertan artist in this series is his branching out into the realm of sci-fi landscape art. "Peripheral peoples, queer people, are often involved in a way in a project of world-making, heavily influenced by science fiction," McEwen said in a recent interview. "In a lot of ways, this isn't working for us. What could be different?" McEwen delves into new dimensions to consider this question and continue his project of queer world-making, envisioning futuristic heterotopias. His portraits typically range from miniature to medium-sized, with his different subjects forming relationships between each other when hung in his notable salon style. I'm very much looking forward to seeing how this dynamic will play out in relation to his supernatural landscapes, and which context they will lend to his queer portraits.—Valérie Frappier, editorial intern
Art Toronto takes place October 27 to 30 at the Metro Toronto Convention Centre. At the Canadian Art booth, partake of an installation by artist and architect Christian Kleigel that is part 1960s radical architecture model turned furniture, part Kensington Market produce stand. Canadian Art is also presenting the panel The Idea of History with Deanna Bowen, Yaniya Lee, Michèle Pearson Clarke and Merray Gerges on October 28 at 6 p.m. on the fair's mainstage. Daily editors' tours will meet at the Canadian Art booth at 2 p.m.