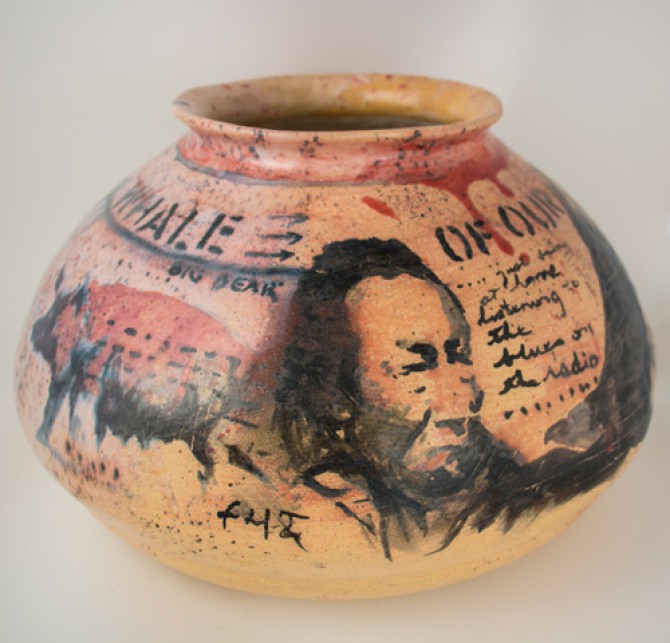 Tributaries embraces the elements of earth, fire and light, foundations of Indigenous ideology. Contemporary artists of First Nations ancestry interpret a shared history, land and culture through installation, photography and sculpture informed by traditional knowledge, language, social constructs and protocol and styles of art and architecture.
The theme of this exhibition is inspired by Carl Beam's Whale of Our Being, a work from the Canadian Clay & Glass Gallery's permanent collection. In Tributaries, his glazed stoneware pot serves as a point of departure in the exploration of the relationship between people and the land. The selected artists represent diverse practices, histories and regions and their works present a selection of various materials such as porcelain, stoneware, bronze, wood, textile and glass accompanied by digital photographs, prints and drawings. The viewer is invited to experience the work presented within a holistic approach that engages one to enter the discussion at any given point of reference.
Artists include: KC Adams, Rebecca and Kenny Baird, Carl Beam, Nadia Myre, Marianne Nicolson, Greg Staats, Members of the Smith Family Pottery
Tributaries weaves personal and collective experience and memory with Issues that confront identity, commodity, tolerance and environmental management as these become fodder for reclamation and resilience.
This exhibition is generously supported by:
Ontario Arts Council – Aboriginal Curatorial Projects and F.K. Morrow Foundation