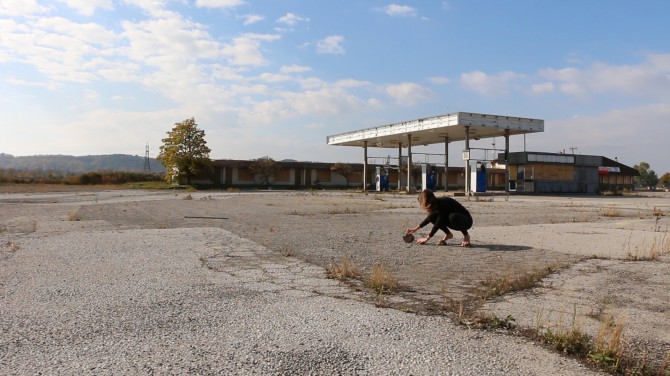 Jordyn Stewart, 02 43° 8′ 46 N 79° 28′ 38 W (video still), 2014.
Nicole Clouston, Singithi Kandage and Jordyn Stewart
August 25 – October 29
Opening Reception: Thursday, August 25, 7:00 – 9:30 pm [artists will be in attendance]
To have a body is to learn to be affected… put into motion by other entities, humans or nonhumans -Bruno Latour
The artists in Topographies, Jordyn Stewart, Nicole Clouston and Singithi Kandage explore how we, at a personal level and through a societal lens, interact with and effect the environments that surround us, both natural and urban—and in turn, how the surrounding environment affects us. Neither a cautionary tale nor celebration of excess, the works on display ask us to reflect on the environment and our place within it. How do we relate to, create, and what is our impact on the spaces that surround us? Through the works presented, these artists lay the foundation for a discourse on alternate relations between landscape and to the body; a means of thinking that helps us to reconsider our relationship to our surroundings.
More info HERE
This exhibition will be accompanied by an essay written by Caroline Forde.