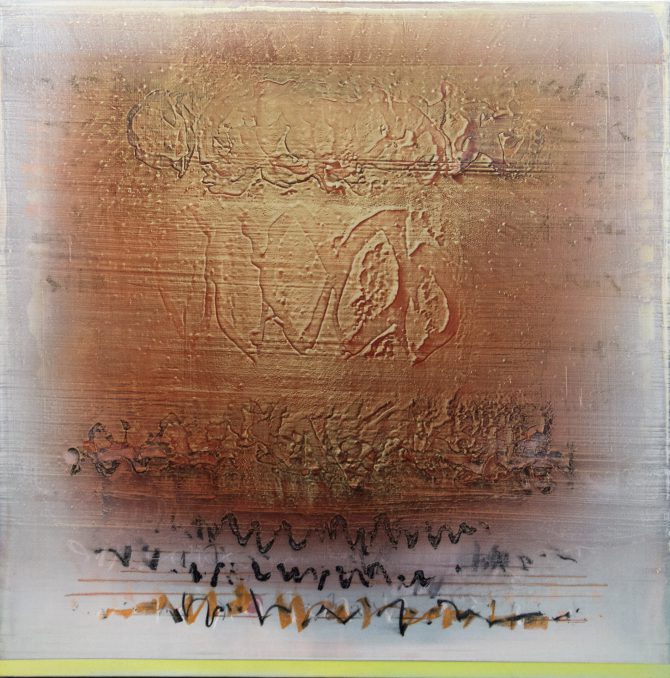 Alice Teichert, Scripting (2015), 40 x 40 inches, acrylic and crayon on canvas.
On exhibit in Oeno Gallery's latest show Text Message will be paintings, sculptures and prints that incorporate letters, words and hand written script.
As both visual imagery and language, words in artwork give powerful direction to thought. While text in art is not new – think of illuminated letters in medieval manuscripts – the use of language in 20th century art, in Dadaist, Surrealist or Pop art, forced viewers to ask themselves "what is art?" There is tension between reading and seeing a work of art. How this tension is used is integral to the artist's visual message.
Iain Baxter&'s pop-concept bas-relief pun, "OUR WORLD NEEDS A GREEN SWEEP," is political in nature. There is no mistaking his critique of contemporary consumer culture using plastic and an embedded hand broom. In contrast, the words "wires, head detached" scrawled in pencil by Betty Goodwin in her drawing Arteries & Nerves, make a raw, personal statement on pain and loss.
The use of text can give the artist greater control over the message. Nie Jian Bing incorporates Chinese characters in the recreated classical portraiture of Velasquez's 1660 painting of Infanta Margarita of Spain. The portrait dotted with acupuncture points labelled "stomach 1" "governing vessel 1" and more in Chinese characters is an intersection of East and West cultures as well as a visceral reminder of the physical subject of the painting who is no longer alive.
Other works in the exhibition include Ben Woolfitt's poignant graphite journal entries and Charles Pachter's Journals of Susanna Moodie that illustrate the poetry of Margaret Atwood. Rounding out the exhibition are works by Alice Teichert, Roger Wood, Rick Rivet, Susan Collett, Dale Dunning, Heather Hietala and Ciba Karisik.
The exhibition is available for viewing on Saturday, Sept. 16.