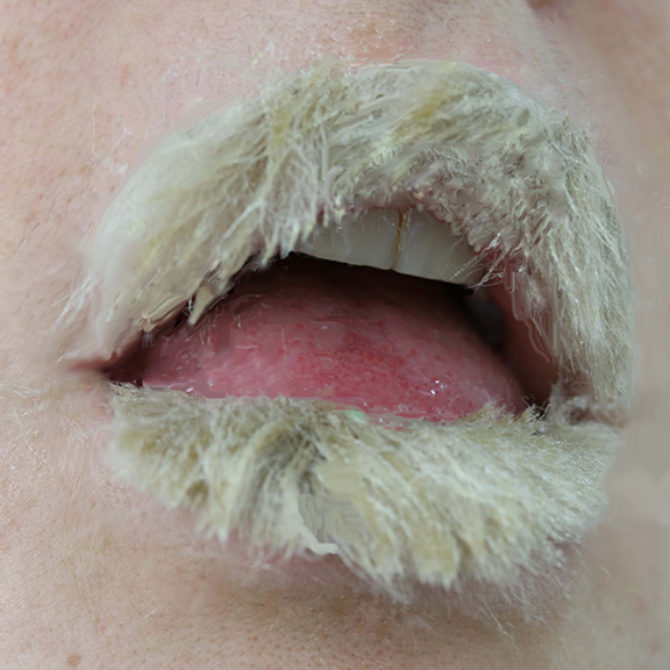 Ambera Wellmann, Mystax, (detail), 2017, digital print, dimensions variable. Courtesy of the artist.
A Featured Exhibition for the CONTACT Photography Festival
Opening Reception: Thursday, May 3, 6 – 9 PM
May 3 – June 17, 2018
Curated by Kendra Ainsworth
EXHIBITION PROGRAMMING
Curator's Tour: May 12, 1 PM
Contemporary Art Bus Tour: May 27, 12 – 5 PM
PANEL: slippery screens, juicy machines, and feminist notions of rupture: May 31, 6 – 8 PM
Artists: Eleni Bagaki, Maya Ben David and Tobias Williams, Maisie Cousins, Dayna Danger, Erika DeFreitas, Danièle Dennis, Lotte Meret Effinger, Doreen Garner, Talia Shipman, Molly Soda, Ambera Wellmann, Zhu Tian
A particularly interesting concept to emerge from the fourth-wave feminism of the digital era is that of "sad girl theory." Coined by writer Audrey Wollen, it proposes that the visible display of sadness and other emotions by girls and women is an act of resistance, as they break down (or break through) traditional ideas of performing the female body and female autonomy. The work of the artists in seeping upwards, rupturing the surface suggests that the physical manifestations of female emotion—the tears of sadness, the frothing spittle of anger, and the slippery secretions of arousal—all represent a way of taking up space, of turning what has been used against women into an asset. These concepts find affinity with the digital image and the screen. The screen itself is inherently bodily; in the form of personal devices it even asks to be touched. Through these portals we connect with other bodies, and with the world. The provocative, sometimes lurid works in this exhibition – large-scale prints, photo-based installation, performance video and gifs – rupture the surface of the image, and ooze out through the screen, finding and seeping through the leakiness of boundaries, demanding attention.