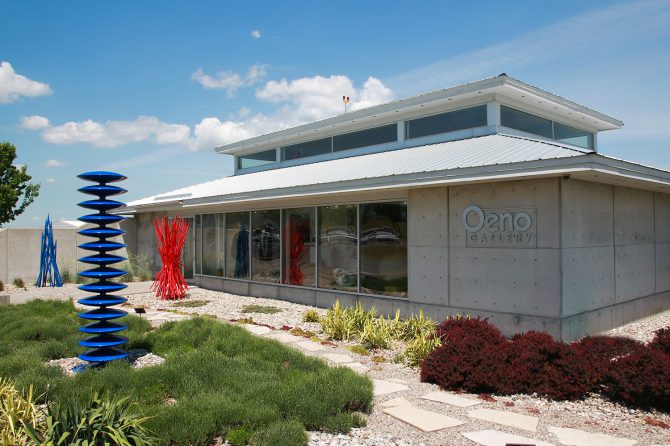 Oeno Gallery Sculpture Garden Invites Proposals From Artists
On four acres of winding paths at Oeno Gallery, Prince Edward County, over 60 outdoor sculptures by 30 Canadian artists are framed by wild grasses and cultivated garden beds. Every year the Gallery invites interested artists to submit a proposal for outdoor sculpture. This year submissions must be received by January 24, 2018.
The Gallery's specialization in contemporary, Canadian, outdoor sculpture is unique, especially considering its relatively remote location compared to major arts centres on the international stage. Opened in 2011, the sculpture garden has many unique features that include vine archways, towering trees, dense pockets of lush flowers, and a quarry pond. Designed by Oeno Gallery owner Carlyn Moulton and landscape artist Drew MacCandlish, the outdoor space has become a destination for over 40,000 visitors a year. From the garden, the Gallery has sold and shipped sculptures of all sizes and weights to collectors across Canada, in the UK, the US, Australia, Thailand, Spain, Portugal, Sweden and Hong Kong.
Entering the garden from the front of the gallery, the tall, bundled steel branches of Shayne Dark's vivid Entangled Yellow echoes the surrounding golden-sword yucca. Similarly, Floyd Elzinga's recognizable large-scale, steel pinecones reflect the environment in which they reside. Some works are in stark contrast to the natural setting; for example, Philippe Pallafray's red and silver stainless steel Mecanique Celeste takes on an industrial and minimalist feel – his stainless steel Aquagraphie has been recently acquired by the Royal Botanical Garden in Burlington. There are also moments of humour and curiosity, such as Zeke Moore's Port-o-Potty, a cast aluminum life-size sculpture of exactly that.
Regardless of material, the sculptures in the garden are created to withstand or even embrace Canadian winters. The extremes of season, strong winds at the gallery, as well as placement on the property are just some of the considerations artists make when submitting a proposal for the sculpture garden. A site map and drone video reveal the parkland nature of the garden: https://www.youtube.com/watch?v=HxxbVHcfKJw
The garden's sculptures are installed in the spring, when the Gallery gardeners are able to redress the effects of winter and plant and tend budding flora. When summer arrives and the garden is in full bloom, the Gallery holds a sculpture garden opening celebration, inviting artists and visitors alike to enjoy music, food, wine, and art. Ultimately, the sculpture garden brings people together, functioning as both a site of community building and of artistic expression.
Current works in the garden are available online at Oeno Gallery's website: http://oenogallery.com/exhibitions/outdoor-sculpture-exhibition-2017/
Please also visit Oeno Gallery's website for additional information on submissions to the sculpture garden: https://oenogallery.com/assets/Call-for-Submissions-ONGOING.pdf
Oeno Gallery is located east of Toronto on Huff Estates Winery in Prince Edward County.
2274 County Road 1, Bloomfield, ON, Canada
613-393-2216