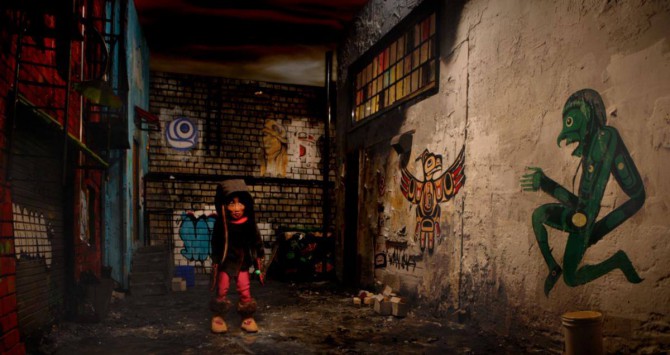 "We come from backgrounds that span many territories, both Indigenous and European. This mixing has an innate yet perhaps unquantifiable impact on the work we do. Mixed berries, mixed medicine, mixed paint, process and practice."
-Bracken Hanuse Corlett and Amanda Strong, Mixed Berries artist statement
"If we want to be Indigenous in the present, we need all the tools available to us. And the courage to use them."
-Richard William Hill
Mixed Berries is a multimedia exhibition of the individual and collaborative works of Bracken Hanuse Corlett and Amanda Strong, centered around the production of the animated short film Mia'. Alongside the screening of Mia' and display of the associated film set and props, Amanda and Bracken present new works from the past year of their respective practices that further elaborate the artists' creative explorations. Mia' tells the story of a young Indigenous woman's transformation and journey across space and time from her urban home to connect with and explore her ancestral ties. Not unlike the lead character in the film (also named Mia') Amanda and Bracken's practices reflect lived realities of working across diverse territories, cultural frameworks and historical influences.
I first began discussing the Mixed Berries exhibition with Amanda in the winter of 2016 at symposium for Indigenous women in film where she was showing a selection of films, including the animated short Mia'. Over the several days that we spent together I gained an increasingly subtle understanding of the nuanced storytelling of Amanda's film work. Mia' seeks to "challenge the notions and format of conventional documentaries and present…Indigenous oral traditions as truth." The story is layered and demands of the viewer a certain amount of attention and effort to engage with the co-existing timelines, realities and aspects of Mia's journey. Lacking dialogue and instead focusing on transmission through the use of strong imagery and sound, Mia' uses cyclical, non-linear methods of storytelling that transport the viewer into fantastical mind spaces along with the characters whose stories they communicate.
Cyclical, non-linear narratives are a particularly Indigenous means of communicating ideas. As leading Blackfoot science scholar Leroy Little Bear explains, Indigenous peoples emphasize the relational interconnectedness between time, space and beings rather than viewing the passage of time as a series of discrete events in a river, flowing from the future, around us in the present before moving into the past. In the Blackfoot understanding, because the world in which we live is in constant flux, there is an emphasis on the idea of renewal of relations between the various aspects of life in order to sustain our human existence. Little Bear gives the example of a fish, and our ability to relate to fish-beings for survival. As Little Bear explains, fish is an old species that pre-dates, and has outlived, dinosaurs, and co-exists with humans to this day. It is important to observe what the fish is doing, how it is existing, to relate to the fish and continually renew that relation in order for human beings to continue existing.
Both artists renew their stories by revisiting them in their work and using the diverse tools they have available to them in order to communicate their creative vision. Bracken's work paintings and digital prints combine his training in the formline tradition with his personal experimentations and experiences. Some work, such as Sisiutl Traveler explicitly references oral stories of a double-headed sea serpent with strong historical ties to many First Nations communities along the coast of British Columbia. Pk'vs Paper Chaser bears an image of a Pk'vs spirit that leads people astray into its ghost realm with deceptive gifts of valuable items. In the short film, Pk'vs tries to entice Mia' in the alley by shaking cash, represented by the green ovoids, from its hand before disappearing from sight. Other work, such as Offering a Song to Our Addictions reflect Bracken's experience of witnessing the struggles and resiliency often associated with addictions, while working in his studio in the downtown eastside of Vancouver.
Amanda's work in film is deeply collaborative and highly relational, stop-motion animation being a labour intensive process requiring a strong team of committed people. On a good day of filming, there is a general ratio that 8 hours of continuous stop-motion shooting would provide approximately 10 seconds of usable film footage. Amanda's working style also means additional time commitments as she is often training the other artists helping with each production as the films are produced. With six films to date and her signature stop-motion animation style, Amanda has told her own stories and helped bring the stories of others. The exhibition of the set and props designed for Mia', as well as the painstakingly hand-crafted Mia' doll, give the viewer a sense of the intricate detail Amanda that was put into Mia'. The doll-version of the artist comes from Four Faces of the Moon, which explores Amanda's personal family history and will premier at the Toronto International Film Festival in September 2016.
Mia' can be seen as a renewal of a narrative based on an oral story from Bracken's First Nation, the Wuikinuxv Nation. As the artists state at the end of Mia', the film is "a reverberation working in continuum with the Wuikinuxv oral story, Xa' Pkvas Wisem Mia'x'it – The Boy Who Turned into a Salmon as told by the late Chief Simon Walkus Sr." Mia' means salmon in the Wukila language, which also makes no distinction between genders in the original Wukila title. Bracken and Amanda chose to go against the common English view of Mia' as male and envision the Mia' character as female. The artists are like Mia', the salmon, traveling through space and time to renew relations with their particular stories and cultural knowledges, using the creative tools they have available to them. Like the salmon's annual swim against the current for the renewal of the species, the artists demonstrate that the creative journey is not one-way, but exists in spectrum of ongoing re-creation across space and time.
---
Hill, Richard William. Is There an Indigenous Way to Write about Indigenous Art? Canadian Art, 25 May 2016, https://canadianart.ca/features/indigenous-way-write-indigenous-art/. Accessed on 18 Aug 2016.
Mia Press Release-2015.08.05.pdf
Little Bear, Leroy. "Native Science and Western Science: Possibilities for a Powerful Collaboration." Arizona State University, Tempe Campus, 9 May 2011, https://www.youtube.com/watch?v=ycQtQZ9y3lc&feature=youtu.be. Accessed on Aug 24, 2016.