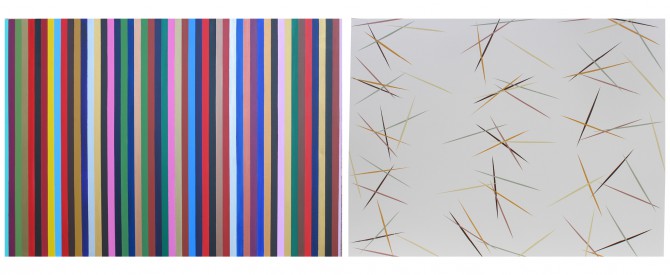 Michael Batty & Jeffrey Spalding: Along Modernist Lines
April 18th – May 2nd, 2015
Opening Reception: Saturday, April 18th, 2-4 pm
Canadian painters Michael Batty and Jeffrey Spalding come together for Along Modernist Lines, an exhibition exploring post-painterly abstraction through bold experimentation in the interplay of colour, movement, chance elements and the edge.
Colour kinetics take precedence in developing Michael Batty's diverse compositional interplay of energy and lyricism. Utilizing thin strokes of exacting color set against passages of seemingly empty voids of primed canvas, the eye is guided through interacting elements in a search to both connect and de-code the image. Elements of repetition combine with the suggestion of gravity to animate colour and form into a work of a kinetic nature.
Jeffrey Spalding's geometric, often striped abstractions are based on the artist's system of compositional arrangement: numbered sequences, series and mathematical progressions assigned to colour placement and composition. Colour takes on personal meaning as its selection becomes highly narrative and emotive. The visual dynamics are linked to the artist's thoughts, musings and reactions to daily life events, embodying the spirit and colour of significant places, times and events.
About Michael Batty:
Michael Batty graduated from Emily Carr College of Art and Design in Vancouver in 1989 with a major in painting. He has attended the renowned artist workshops in Emma Lake, Saskatchewan under the tutelage of the likes of Anthony Caro, William Perehudoff and Dorothy Knowles. He also studied printmaking at The Art Institute at Capilano College in Vancouver. Batty's paintings can be found in collections around the world, including the Waldorf Astoria in Beijing, China, W Guangzhou, China, Four Seasons, Dubai, UAE, and Bank of Montreal in Calgary and Toronto, among many others.
About Jeffrey Spalding:
Jeffrey Spalding is an artist, writer and curator. He has served as Director at major art museums, including Glenbow Museum, University of Lethbridge, Art Gallery of Nova Scotia, Appleton Museum of Art, Florida and Artistic Director and Chief Curator of the Museum of Contemporary Art, Calgary. His artworks are in the Canadian public collections of the National Gallery of Canada, Vancouver Art Gallery, Montreal Museum of Fine Arts, The Canadian Embassy, Washington, Art Gallery of Alberta, Glenbow, Mendel Art Gallery and Mackenzie Art Gallery. Spalding was named President of the Royal Canadian Academy of Arts from 2007-2010, and was the recipient of the Alberta College of Art and Design, Board of Governors Award of Excellence (1992), the Order of Canada (2007) and the Queen Elizabeth II Diamond Jubilee Medal (2012). He is a regular contributor to Galleries West magazine.
Image details:
1. Jeffrey Spalding, Cuba Libre 2, Acrylic on Canvas, 64 x 96 in., 2015.
2. Michael Batty, Three, Acrylic on Canvas, 75 x 90 in., 2015