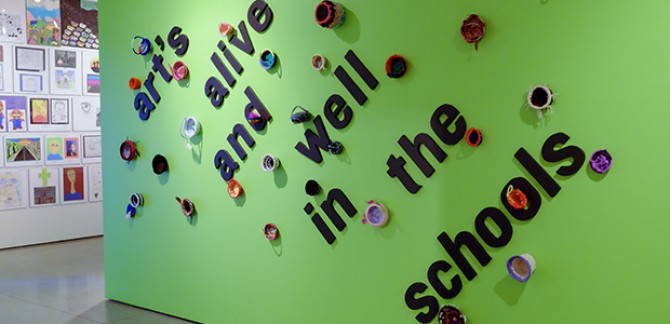 The Southern Alberta Art Gallery is committed to fostering the creative development of artists at every stage in their career. With our annual Art's Alive and Well in the Schools exhibition, we're able to provide formative experiences for Lethbridge students from Kindergarten to grade 12 by exhibiting their work in a leading Canadian contemporary art gallery. As one of SAAG's longest running programs, we estimate Art's Alive has exhibited over 15,000 works of student art in its 39-year history. Each year this exhibition reminds us art is a fundamental aspect of learning and development, and an important endeavor in cultivating a community for our young artistic, cultural, and innovative leaders of tomorrow.
This exhibition features over 400 works by students from kindergarten through grade 12 and highlights the diversity of creative talent in our schools. Some pieces reflect students' raw natural skill in drawing, painting, and sculpting while others reflect the conceptual understandings of children growing up in today's complex world.
In addition to the hard work and dedication of students, we commend the dedication of teachers and school administrators who work tirelessly to craft a learning environment for the modern world. The Southern Alberta Art Gallery would like to express a special thanks to Phyllis Furukawa from Lethbridge School District 51, as well as the Holy Spirit Roman Catholic Separate Regional Division No. 4, and the countless art representatives from each of the participating schools.

Aa'sitapiwa: All the Young People
Earlier this year a group of students from Sir John Franklin School in Calgary and Tatsikiisaapo'p Middle School from Kainai began collaborating on art projects that address various cultural issues, perspectives, and understandings regarding truth and reconciliation. Centering on themes of trust, exchange, and dialogue, artists and teachers developed a methodology reflecting these ideas: one student would begin a work of art and send it to the other school to be completed by another student. Through this project artists performed important steps in the process of reconciliation by building trust and lasting relationships. With these concepts in mind, the title Aa'sitapiwa (pronounced ah – si –dah –BEE), meaning All the Young People, was born.
The Southern Alberta Art Gallery is delighted to exhibit the results of this project. We would like to recognize Andrea Fox for her role in promoting collaboration between students, schools, and arts institutions.
Funding assistance from the Alberta Foundation for the Arts and the City of Lethbridge. We acknowledges the support of the Canada Council for the Arts, which last year invested $153 million to bring the arts to Canadians throughout the country.
All of the pieces in Aa'sitapiwa are for sale and proceeds go to support the Lethbridge Shelter and Resource Centre.  Photo prints are $20 and larger pieces are $40.
Gallery School

From May 2 to June 10 the Southern Alberta Art Gallery is delighted to offer free Gallery School for Aa'sitapiwa: All the Young People, Art's Alive and Well in the Schools, and Then & Now: The Buchanan Collection Seen through Emerging Artists. Bring your class or community group to SAAG for a tour and hands-on art activity, and experience first hand the rich creativity of artists in our community and region. To book your tour contact Taylor Crozon, Public Engagement Coordinator, at education@saag.ca. Book early, as tour spots fill up quickly.
Reading and Viewing Guide
Art's Alive and Well in the Schools, Aa'sitapiwa, and Then and Now showcase the work of student artists in Lethbridge and southern Alberta. Drawing on themes of identity, Canadian art history, and Truth and Reconciliation these exhibitions provide an occasion to reflect on the role of youth and art in shaping a bright future for all Canadians.
The following readings and videos touch on some of these topics and enhance the conversations surrounding our current exhibition. Get the list here.
– See more at: http://saag.ca/art/exhibition-archive/0707-art's-alive-and-well-in-the-schools-and-aa'sitapiwa#sthash.LUdj7nPU.dpuf