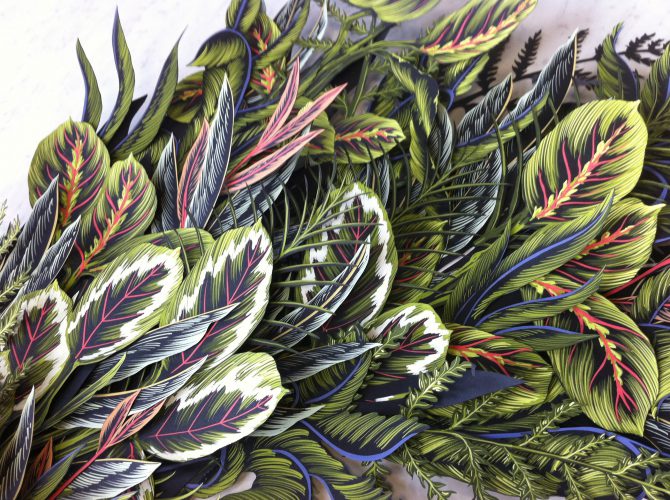 Mia Sandhu, Pelvic Thrust (detail), 2017
Miranda Crabtree and Mia Sandhu
February 4 – March 11
Opening Reception: Saturday, February 4, 2:00-4:00 pm
Artist Talk with Mia Sandhu (former Hamilton Artist Inc. Cotton Factory Residency Program recipient): March 4, 2:00 pm
I'm Right Where You Left Me is a two-woman show, presenting visual stories of women who surrender to the environments they are placed within. Artists Mia Sandhu and Miranda Crabtree tackle the teasing, playful inner worlds of women exploring their environment, pushing boundaries of old-school femininity, while asserting a woman's right to physical autonomy and sexual self-expression. Sandhu and Crabtree are reacting to cultural, man-made signifiers, such as wreaths, as well as other talismanic shapes found in nature: circles made with leaves, shrines constructed with sticks, paths carved through forests. Both artists conjure the natural environment as the instinctual site for women to unfurl. Sandhu presents vivid, large-scale wreaths of foliage embellished with erotic female imagery. Crabtree's watercolours explore heroines, often gathered in community, as they strive to transcend the inhospitable elements of desolate environments. These symbolic interventions offer a cathartic signaling back to our own nature and to the inner paths that allow space for spiritual change.
–Miranda Crabtree / Alex Raponi
This exhibition will be accompanied by an essay written by Alex Raponi.
Miranda Crabtree is a painter and installation artist, based out of her home city, Toronto. Crabtree received her BFA from NSCAD University in 2007. Her paper-based watercolour/gouache paintings and installations have shown in galleries across Toronto, including Gallery 1313, The Gladstone Hotel's Nuit Blanche, and Black Cat Gallery. Crabtree is currently working on new ink drawings begun at a recent Artscape Gibraltar Point residency, as well as large-scale drawings seen in this exhibition at Hamilton Artist Inc.
Mia Sandhu is a multidisciplinary artist, currently residing in Toronto, Canada. Sandhu received her BFA from NSCAD University in 2009. Her gouache/watercolour-based works on paper explore her fascination with cultural hybridity, gender, sexuality, familial and personal narratives. Recently completing a two month residency through the Hamilton Artists Inc. Cotton Factory Residency Program, she was able to create much of the work on display in this exhibition. Sandhu's work has exhibited in Toronto, Kingston, Halifax and Hamilton.