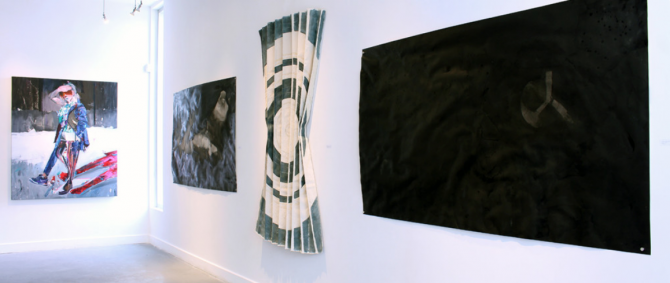 Guidance
Bogdan Luca, Nancy Anne McPhee and Trudy Perks
Opening Reception: March 25, 2:00 – 5:00 pm
Nancy Anne McPhee – Cotton Factory Talks: May 19, 7:00 pm at the Cotton Factory (270 Sherman Ave N. Studio 236 in the Storehouse Building – entrance through parking lot).
What results when an art work can guide itself? No longer determined solely by the hand of the maker or the circumstances of creation, accidents and flaws inevitably shape the outcome of a work. Is it a collaborative process with chance? An exploration in potential? Bogdan Luca, Nancy Anne McPhee, and Trudy Perks each allow material process to guide and surprise them in the creation of their work. Luca's mixed media paintings combine collage, abstraction and figurative representation into a liminal field that evokes the ambiguity and shifting identities of the subjects he portrays. At times, a comment on how societal contexts and mass media can effect a shifting sense of self, and the power relations at play. McPhee's ink washes juxtapose satellites against the vastness of space. These large-scale drawings exemplify the willfulness of the materials used, ink running and collecting into chance constellations. Simultaneously, the viewer is asked to ponder the resulting sense of loneliness, and, at the same time, the mass surveillance evoked by these satellite images. Inspired by NASA re-entry parachutes, Perks' subtle textural canvases evolve into soft structures evidencing mark making, the relational history of a body being moved, and the canvas' response. As demonstrated by the works on display, when expertise can lead to a predictable outcome, a willingness to relinquish control can allow for the development of new approaches, pathways, ideas, and connections.
This exhibition will be accompanied by a critical essay written by Benjamin Prus.
Nancy Anne McPhee – Cotton Factory Talks: April 29, 2:00 pm at the Cotton Factory (270 Sherman Ave N. Studio 236 in the Storehouse Building – entrance through parking lot). As the most recent artist in residence of the Hamilton Artists Inc. Cotton Factory Residency Program where she created the majority of the works on display, McPhee will talk about the process of these images as well as about her broader exhibition practice.
Bogdan Luca is a Toronto based artist interested in the ecology of images that constantly shapes our consciousness and sense of reality. Bogdan uses painting, drawing, collage, and photographic techniques to create images that reflect a sense of contemporary disorientation in relation to an over abundance of visual information. He has shown his work in Canada, Romania, Germany and the US. Bogdan also teaches drawing and painting at OCAD University and the Art Gallery of Ontario.
Nancy Anne McPhee is a textile installation artist originally from Alberta and now based in Hamilton, ON. McPhee has a BFA from the University of Victoria, an MFA from Concordia University, an MLIS from Dalhousie University, and has worked as an instructor at Concordia University and NSCAD University. McPhee has exhibited nationally and internationally in commercial galleries, artist-run centres and public galleries, and has received funding from the Canada Council, the Ontario Arts Council, and the Conseil des arts et des lettres du Québec.  Recent exhibitions include the Biennale internationale du lin de Portneuf (QC), SUPERCRAWL Hamilton (ON), and upcoming solo shows at Agnes Jamieson Gallery (ON) and Grenfell Campus Art Gallery (NL).
Trudy Perks is a painter living in Barrie, Ontario, making work about folds. She is interested in the emergence of patterns and soft structures with flexible geometries. Her work often references physics and nature, questioning limits of authority and what is considered traditionally feminine. She grew up in Southern California and has a BFA from OCAD University (drawing and painting, 2016) and Hon.B.Sc. from the University of Toronto (physics and environmental studies, 2000). She also studied at Loughborough University's School of Art & Design in East Midlands, UK (studio practice, 2010). Awards received include scholarships from the Women's Art Association of Hamilton, OCADFA and Loughborough University School of the Arts. She has exhibited recently in Midland, Orillia, Barrie and Toronto, Ontario, and in Florence, Italy.