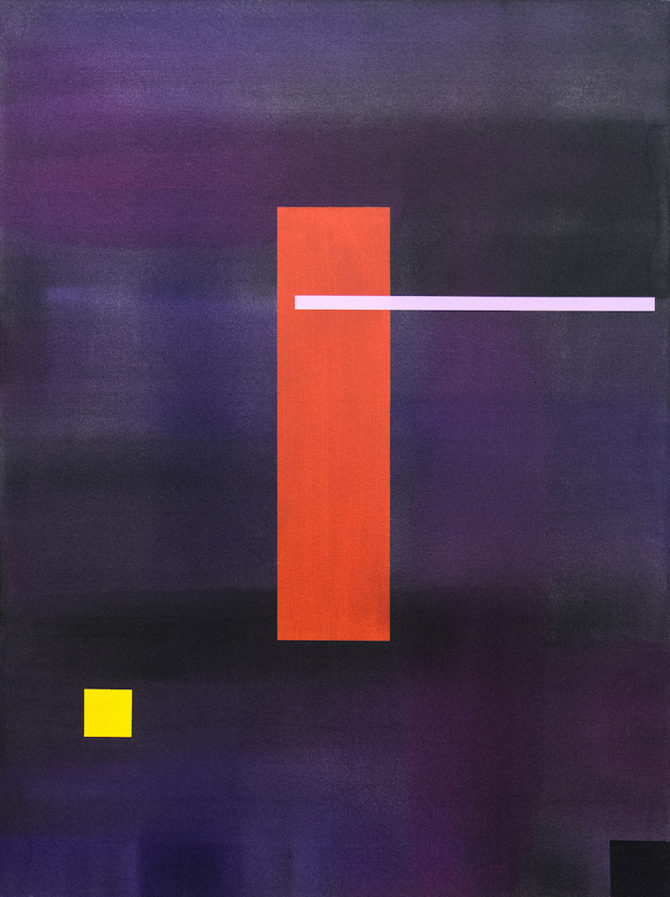 Milly Ristvedt, Paradise Paintings: Distribution, 2017, acrylic on canvas, 48 x 36 inches.
Artist's Talk: Sun. Feb. 18 at 2:00 pm
Oeno Gallery, 2274 County Road 1, Bloomfield, Prince Edward County, Ontario
Seating is limited so please call for a reservation: 613-393-2216
Milly Ristvedt, established maker of post-painterly abstractions, will speak at Oeno Gallery on Sun. Feb 4th about her new work, the Paradise paintings. This group consists of eight, numbered acrylic canvases that integrate lyrical washes of bold colour with powerful, solid shapes. Thematically, the works speak to the artist's preoccupation with the modern grid and contemporary narrative.
Milly Ristvedt, RCA, began her career in Toronto in 1964 after studies with Takao Tanabe at the Vancouver School of Art. At 24, her work was included in the Centennial Exhibition at the Art Gallery of Ontario and featured at the National Gallery of Canada. She was chosen for prestigious exhibitions in Winnipeg, Paris and Lausanne. By 1969, Ristvedt was sharing a studio with Jack Bush and showing with the Carmen Lamanna Gallery. Over her long career, Ristvedt has had over 50 solo exhibitions. Her abstract, acrylic canvases are held in private, corporate and public collections including the Art Gallery of Ontario, the Boston Museum of Fine Arts, the Musée d'art contemporain de Montréal and Harvard University. Barry Lord observed in Art in America (1969) that Ristvedt's paintings were "…more insistent than Bush, more consciously structured than Molinari."
The Paradise paintings are featured in Colour Break, a group exhibition that runs from Sat. Feb. 3 through Sun. April 1, 2018.