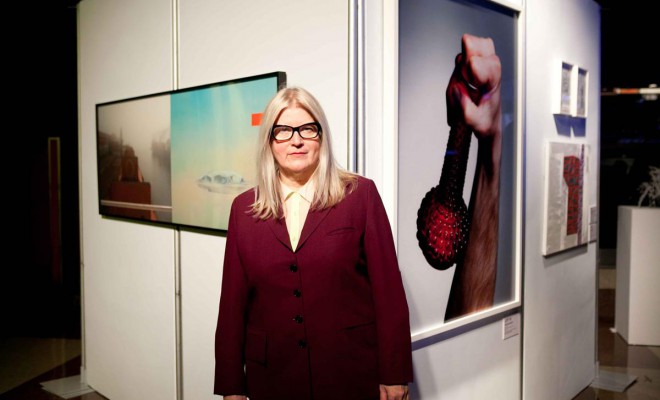 Born in Vancouver on October 5, 1951. Lives and works in Winnipeg.
Wanda Koop is known for creating monumentally scaled painting installations that can include video, performance and photography. Born in Vancouver to Russian-Mennonite parents who had fled the Russian Revolution, Koop pursued artistic practice from an early age. As a teenager, she attended a commercial art school before going on to study art at the University of Manitoba. In much of her work, Koop explores the intersection of disparate materials, ideas and contexts—painting and photography, urbanism and the environment, technology and subjectivity— poetically examining ways in which one medium informs the other. She is also the founder of Art City, a community arts centre designed to provide free arts programming and build safe, accessible space for creative thinking for underserved populations in Winnipeg. Koop's work is in the collections of the National Gallery of Canada and the Musée d'art contemporain de Montréal, among others, and a comprehensive survey of her work was presented at the NGC and the Winnipeg Art Gallery in 2010 and 2011. In 2006, Koop was appointed a Member of the Order of Canada, and she has received honorary doctorates from the University of Winnipeg, Emily Carr University of Art and Design, and the University of Manitoba for her lifetime of social and cultural contributions.
Photo of Wanda Koop at the 2014 Canadian Art Foundation Gallery Hop Gala Dinner and Auction by Christina Gapic.