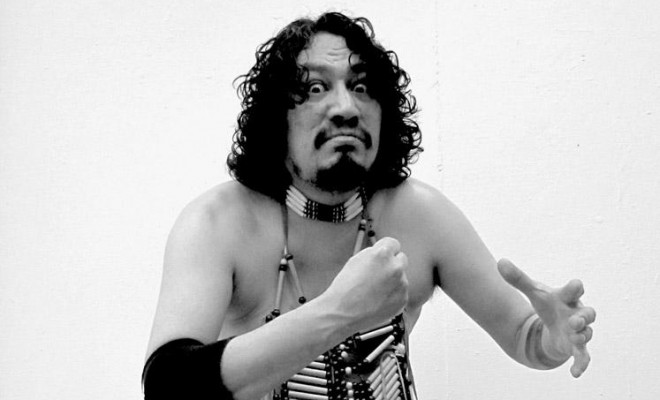 Born December 9, 1975, in Calgary. Lives and works in Calgary.
In a practice that ranges from performance to photography to film and video works, Blackfoot artist Terrance Houle remakes the troubled history of colonialism and First Nations identity with a roguish wit and punk-rock edge. His strategy matches self-deprecating humour with an uneasy undertone; the results cut away at both Aboriginal and non-Aboriginal notions of an urban Indian status quo. In his Urban Indian Series (2004), Houle is pictured grocery shopping, working in an office cubicle and riding public transit—all in elaborate powwow regalia. In the performance video Friend or Foe (2010–11), he plays off cultural and historical gaps in communication while dressed in a loincloth and communicating by sign language. And in Iinniiwahkiimah: Buffalo Herder (2010–11), Houle performed stereotypical incantations amid an installation of graffiti-inspired wall drawings of buffalo. A graduate of the Alberta College of Art and Design, Houle has been featured in solo and group exhibitions across Canada and internationally, including at the Smithsonian Institution, MASS MoCA and the MacKenzie Art Gallery.
Photo of Terrance Houle as "The Blackfooter" (2012) courtesy the artist.