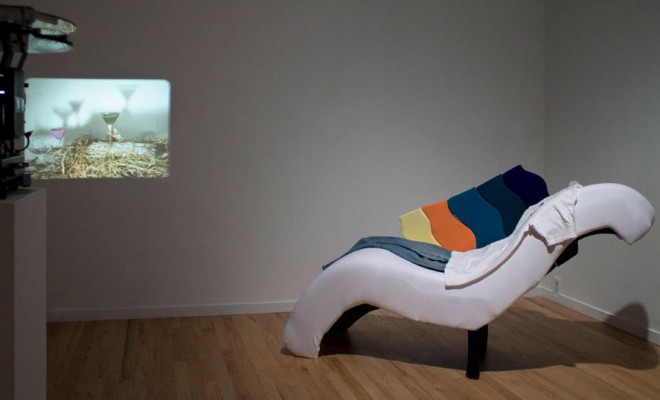 Born in Sackville in 1982. Lives and works in Vancouver.
Tamara Henderson's writings, sculptures and 16mm films often suggest an escape from conscious experience and an appearance of being orchestrated by spectral forces. Her process of tapping into dreams connects to Surrealist traditions; she carefully records what she experiences or imagines under various altered or unconscious states such as sleep or hypnosis, then translates the sketches, notes and recordings into films, sculptures or other works. Since 2011, for instance, Henderson has been reconstructing pieces of furniture she imagines under hypnosis. Henderson studied at NSCAD and Städelschule in Frankfurt am Main, and she holds a master's from the Royal Institute of Art in Stockholm. She has exhibited at Western Front, the Walter Phillips Gallery, Kunstverein Nürnberg and Documenta 13, where she presented Sloshed Ballot & Anonymous Loan (2011), a 16mm film depicting everyday objects being manipulated by invisible hands. Henderson was shortlisted for the 2013 Sobey Art Award.
Photo of Tamara Henderson's Neon Figure (2013) and Pacific Peace (2013) installed at Western Front by Megan Hill-Carroll.