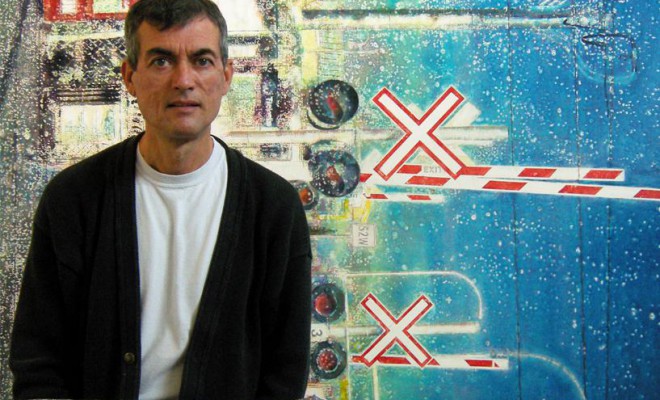 Born in Sarnia in 1956. Lives and works in Toronto.
Stephen Andrews is a multimedia artist interested in a handmade engagement with mechanically generated images. Work from the 1990s explored the HIV/AIDS epidemic through (at first) the monochromatic reproduction of obituary portraits. Then, from the mid-1990s onward, when Andrews's own HIV/AIDS diagnosis was no longer fatal, the images took on the form of optimistic colour images of weather, including bright skies and seascapes. Throughout this period, Andrews worked with a variety of fragile and organic materials: parchment, beeswax, even pig's gut. More recent work—crayon rubbings on Mylar that suggest the kind of CMYK colour separation generated in industrial printing—delves into war imagery. In the 2000s, Andrews took up painting; he is also a celebrated filmmaker. Andrews's work is in the collection of the Art Gallery of Ontario and the National Gallery of Canada, and he has shown in Brazil, Scotland, Japan and elsewhere.
Photo of Stephen Andrews in the studio courtesy the artist.