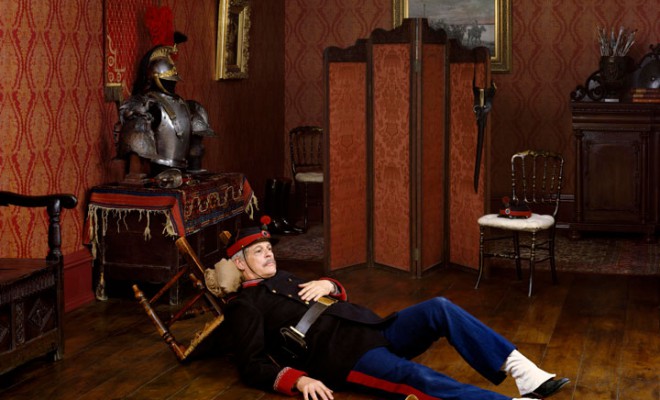 Born in Abbotsford on January 16, 1949. Lives and works in Vancouver.
Rodney Graham's works humourously consider notions of doubling and historical modes of self-representation. Graham is part of a generation of Vancouver artists—including Ken Lum, Roy Arden, Stan Douglas, Ian Wallace and Jeff Wall, some of whom he played with in the punk band U-J3RK5—who established the city's reputation for photoconceptualism. Graham's breakthrough works, completed after studying at the University of British Columbia and Simon Fraser University, were a series of images of inverted trees made with a camera obscura. Later, in the 1990s, Graham became known for appearing in short, looped films in which he parodied and problematized modern or proto-modern notions of selfhood and masculinity. In 1997's Vexation Island, shown at that year's Venice Biennale in the Canada Pavilion, Graham is a Crusoe-esque shipwrecked pirate; in 2001/2002's The Phonokinetoscope, the artist rides a bike through Berlin's Tiergarten park on LSD. A touring retrospective, "A Little Thought," opened at the Art Gallery of Ontario in 2004. Graham's work is in the collection of the Centre Georges Pompidou, the Metropolitan Museum of Art and the Rennie Collection.
Image of Rodney Graham's Artist Model Posing for "The Old Bugler, Among the Fallen, Battle of Beaune-Roland, 1870″ in the Studio of an Unknown Military Painter, Paris, 1885 (2009) courtesy Vancouver Art Gallery.