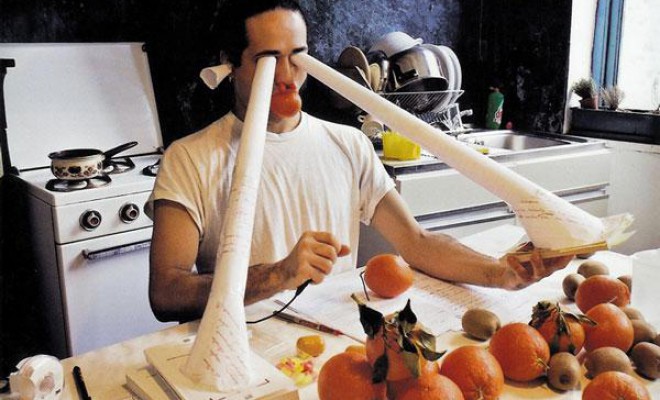 Born in Rome, Italy, in 1967. Lives and works in Montreal.
Multidisciplinary artist Massimo Guerrera uses performance, sculpture, installation, drawing and painting to explore human exchanges and connections. Often employing disarming relational strategies, Guerrera's performances and installations (which may also be thought of as spaces for performance and interaction) often explore possibilities provided by the body and its relationship to food, speaking to notions of human connection and exchange through events such as communal meals. Food and food scraps are often used as sculptural materials, as well as a metaphor through which to explore interpersonal relationships, daily life, spiritual practice and experiences of consumer society. Guerrera received his BA from l'Université du Québec à Montréal in 1992 and has also studied performance and printmaking in less formal settings. In 2001, Guerrera was the recipient of the Prix Ozias-Leduc and in 2004, he was a runner-up for the Sobey Art Award. His work has been presented nationally and internationally, including at White Columns, the Liverpool Biennial, the Biennale de Montréal and the Quebec Triennial. His work has been collected by the National Gallery of Canada, among other institutions.
Image of Massimo Guerrera's 1999 photograph Dialogue intime avec…. courtesy of Clint Roenisch.