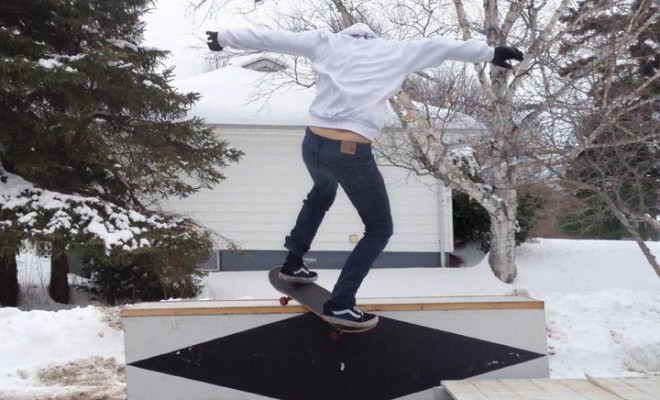 Born in Corner Brook in 1977. Lives and works in Sackville.
Mark Igloliorte's practice combines traditional and contemporary concerns. Of Inuit descent on his father's side, Igloliorte was raised primarily in Goose Bay, Labrador, where he hunted, fished and snowmobiled; a later move to Corner Brook in his adolescence saw him take up skateboarding. All these activities, both their formal qualities and their cultural resonances, inform his work, which comprises painting, drawing, sculpture and video. Igloliorte received his BFA from the Nova Scotia College of Art and Design and his MFA from Concordia University. A residency at the Banff Centre opened up his practice between degrees; moving towards his thesis work at Concordia, Igloliorte painted 19th-century photos of kayaks by German and Moravian missionaries on Plexiglas, and he later did a series of quick observational paintings on telephone-book paper. Other work includes an adaptation of the Labradorian "komatik" storage and transport container as a modernist object and skateboard box. Igloliorte has shown at the Musée national des beaux-arts du Québec, the Quebec Triennial at the Musée d'art contemporain de Montréal, and nationally as part of the touring exhibition "Beat Nation." In 2012, he was longlisted for the Sobey Art Award.
Video still of Mark Igloliorte performing on one of his komatik skateboxes by Navarana Igloliorte. Image courtesy Galerie Donald Browne.