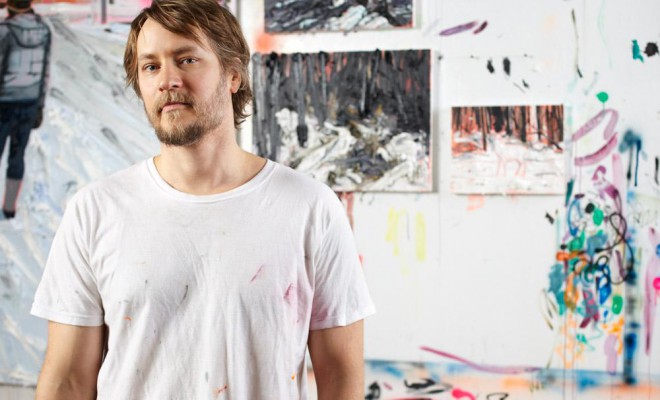 Born in 1974 in Wainwright, Alberta. Lives and works in Toronto.
Synonymous in Canada with the idea of "extreme painting," Kim Dorland rose to the forefront of our contemporary painting scene in the 2000s with his sculptural approach to impasto. Layering large amounts of paint that sometimes needs anchoring with screws to hold it in place, Dorland produces landscape and portrait paintings of himself and his family that revisit his personal experience and themes of our challenged natural environment. One body of work even included taxidermied animals slathered in bright hues of paint. An MFA graduate of York University, Dorland has had numerous exhibitions across Canada. He has shown internationally in Milan, New York, Chicago and Los Angeles. His paintings are in several public collections, including that of the Musée des beaux-arts de Montréal, the Glenbow Museum and Berlin's Sander Collection, as well as numerous private collections.
Photo of Kim Dorland in his studio by Lisa Petrole from the Spring 2013 issue of Canadian Art.