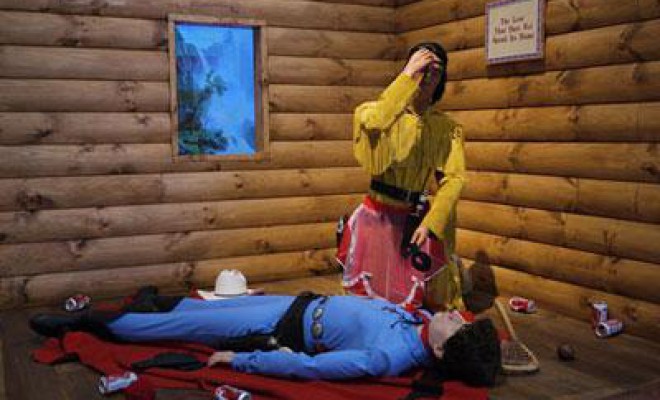 Born in St. Mary's, Ontario, in 1965. Lives and works in Toronto.
The ghosts of North America's colonial past collide with camp aesthetics and white art history in the paintings, films and installations of Kent Monkman. Born of mixed Cree and Irish ancestry, Monkman graduated from Toronto's Sheridan College in 1989, with a preliminary solo exhibition at Vancouver's Monte Clark Gallery in 1993. Moving into the 2000s, Monkman became celebrated for his spectacular paintings: detailed vistas in the tradition of Canadian landscape artists such as Paul Kane, populated with white "cowboys" and Aboriginal "Indians" engaged in sadomasochistic and homoerotic acts. At the same time, Monkman developed a drag persona named Miss Chief Eagle Testickle, who appeared in the paintings as well as in performances and films. Monkman's 2007 exhibition "The Triumph of Mischief," a collaborative project among the Museum of Contemporary Canadian Art, the Art Gallery of Hamilton and the Art Gallery of Greater Victoria, has toured extensively. His work is in numerous private and public collections, including the National Gallery of Canada's.
Photo is a view of Kent Monkman's installation at MASS MoCA's "Oh, Canada" in 2012.