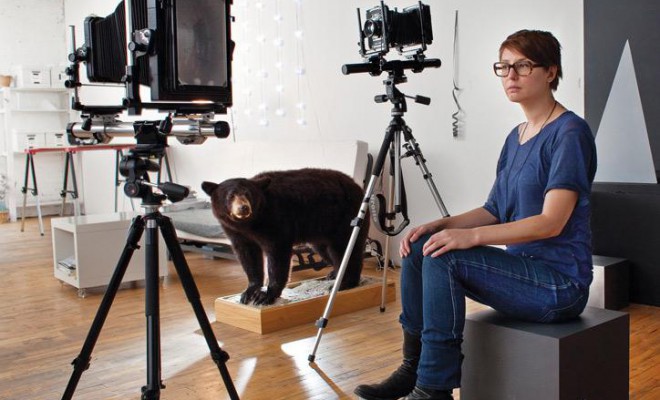 Born in Regina in 1977. Lives and works in Montreal.
Jessica Eaton's photographs dissect chemical and optical phenomena, the materiality of film, and the language of light itself. Eaton came to international acclaim through her Cubes for Albers and LeWitt (commonly referred to by the acronym cfaal)—a series of vibrant photographs that deconstruct her studio practice. Like the majority of Eaton's works, these optically charged images are made by taking multiple in-camera exposures of common studio supplies. Through her abundant use of traditional analog photography practices—such as colour-separation filtering and in-camera masking—Eaton imbues her large-format images with an aesthetic more reminiscent of the paintings and drawings of hard-edge geometric abstraction than the photographs of traditional studio work. Jessica Eaton received a BFA from Emily Carr Institute of Art and Design in 2006. She has shown across Canada and internationally, including at Presentation House Gallery, Foam Fotographiemuseum, the Quebec Triennial and the Daegu Photo Biennale. In 2015 she completed a commission for Vancouver's Capture Photography Festival on the facade of B.C. Hydro's Dalgrauer Substation building.
Photo of Jessica Eaton in her Montreal studio, September 2012, by Roger LeMoyne from the Winter 2013 issue of Canadian Art.