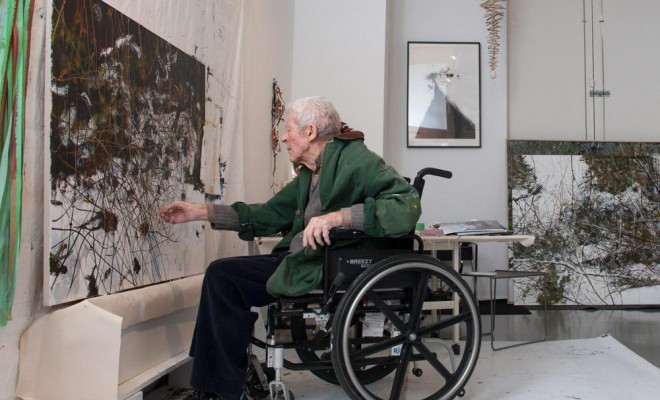 Born in 1919 in Sussex, England. Lives and works in West Vancouver.
Gordon Smith is a key figure in the history of Modernist painting in Vancouver. Born in the UK, Smith immigrated to Canada with his family in 1933. Smith taught and did commercial design and illustration in Winnipeg, studying at the Winnipeg School of Art, before leaving for Europe as an intelligence officer in World War II. He returned wounded in 1941, and in 1946 began teaching at the Vancouver School of Art (now the Emily Carr University of Art and Design) after some studies there; colleagues included Jack Shadbolt and B.C. Binning. The year 1951 was a turning point: the artist travelled to San Francisco and enrolled in the California School of Fine Arts, where he was taught by Elmer Bischoff and fully converted to Modernism. Smith returned to Vancouver and made Abstract Expressionist and later hard-edge paintings, teaching at the University of British Columbia until 1982, when he retired to focus on his work. In 1984, he travelled to Haida Gwaii, which inspired a renowned series of gestural landscapes. In 1996, Smith was named a member of the Order of Canada; in 2007, he won the Audain Prize; and in 2009, he received a Governor General's Award in Visual and Media Arts. His work is in the collection of, among others, the National Gallery of Canada and the Smithsonian Institution in Washington, DC.
Photo of Gordon Smith in his studio in December 2012 by Dina Goldstein from the Spring 2013 issue of Canadian Art.