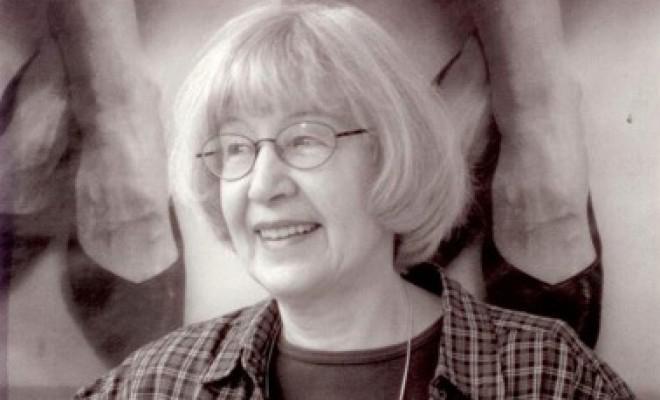 Born in Alexander, Manitoba, on January 31, 1928. Lives and works in Vancouver.
Working in painting, sculpture, installation and performance, Gathie Falk has spent more than four decades creating art that aims to be a "veneration of the ordinary." Falk began her artistic practice in her mid-thirties following jobs as a factory worker and teacher. In her art, Falk has repeatedly explored motifs of the domestic and everyday, choosing running shoes, fruit, eggs and clothing, among other objects, as her subject matter. In 2000, the retrospective exhibition "Gathie Falk" was organized by the Vancouver Art Gallery and travelled to the National Gallery of Canada, the MacKenzie Art Gallery, the Art Gallery of Nova Scotia, the Musée des beaux-arts de Montréal, the Robert McLaughlin Gallery and the Beaverbrook Art Gallery. Falk is well represented in collections across the country, including those of the Vancouver Art Gallery, the Glenbow Museum, the Winnipeg Art Gallery and the Musée d'art contemporain de Montréal. In 2013, Gathie Falk was awarded the Audain Prize for Lifetime Achievement in Visual Arts. She has also been the recipient of the Gershon Iskowitz Prize, the Order of Canada and the Governor General's Award in Visual and Media Arts.
Photo of Gathie Falk courtesy of Equinox Gallery, Vancouver.