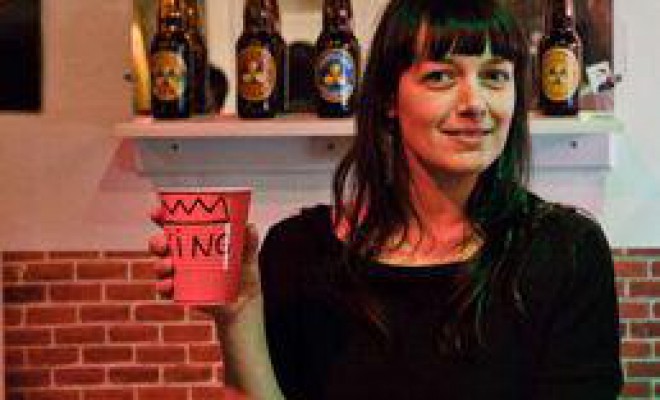 Lives and works in Halifax.
Combining music, sound art, social practices, improvisation and other modes of creation, the art of Eleanor King is difficult to classify, but remains reliably enjoyable. Whether stacking reams of vinyl records skyward in a sculpture, creating a working bar as part of an art installation, tracing old tape reels to make a drawing, amplifying the sounds of underground streams for a public artwork, playing in Halifax-area bands, or curating shows and events as director of NSCAD University's Anna Leonowens Gallery, King and her art often provide new ways of connecting with the present moment—as well as with ideas about music, sound, memory, community and technology. King earned her BFA from NSCAD in 2001 and has participated in residencies at the Banff Centre, the Atlantic Centre for the Arts and the Centre for Art Tapes. Her work has been exhibited at Toronto's Nuit Blanche, the Art Gallery of Nova Scotia and Eastern Edge Gallery, among other venues. In 2012, King was shortlisted for the Sobey Art Award.
Image of Eleanor King at the 2010 installation/performance King & I (created with Stefan Hancherow) courtesy of the artist.