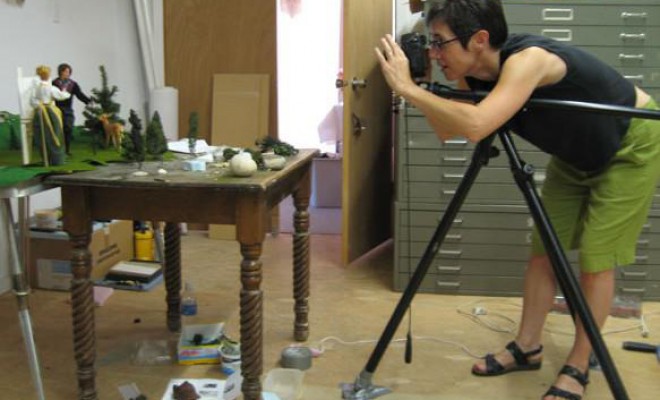 Born in Claresholm, Alberta, in 1956. Lives and works in Winnipeg.
Using photography and drawing, Diana Thorneycroft often explores the darker side of supposedly innocent or benign objects like dolls, toys and cartoon characters. Past series include close-up photographs of dolls' mouths and pencil drawings of Disney characters in murderous or violent situations; her earliest exhibited work provided provocative and similarly eerie self-portraits. Thorneycroft's more recent Group of Seven Awkward Moments series depicts plastic figurines in comedic yet dramatic situations; staged in front of reproductions of Group of Seven paintings, and sometimes based on anecdotes of that same group, the works deconstruct the pristine Canadian landscape as depicted in the paintings—as well as some art-historical myths around same. Thorneycroft received her BFA from the University of Manitoba in 1979 and her MA from the University of Wisconsin in 1980. Her work has been exhibited nationally and internationally, including at the San Francisco Museum of Modern Art, the Canadian Museum of Contemporary Photography and the Canadian Cultural Centre in Paris. She has received numerous awards and grants, and her work is in the collection of the Vancouver Art Gallery, the Winnipeg Art Gallery and the Art Gallery of Nova Scotia, among other institutions.
Photo of Diana Thorneycroft at work courtesy of the artist.