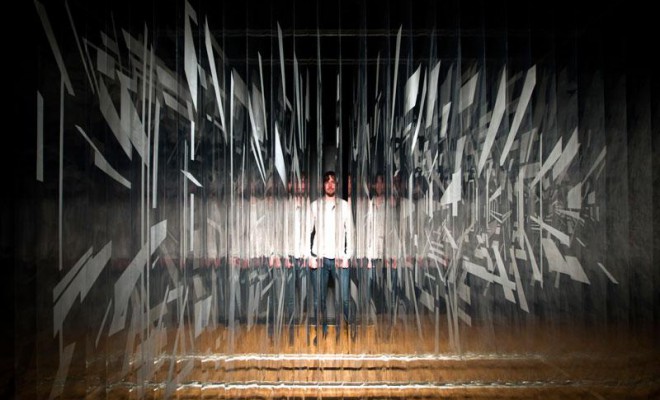 Born in Manchester, England, in 1978. Lives and works in Montreal.
David Spriggs is known for his unusual large-scale installations, which meld a sense of intensity with a sense of delicacy. Spriggs's technique presents a work that is seemingly ephemeral in its translucence, but is created from multiple layered images that are suspended vertically, allowing the viewer to move about them. Through these means, Spriggs probes the symbolic, cultural, historical, political and perceptual understandings attached to specific colours and forms. Spriggs received his BFA from Emily Carr Institute of Art and Design in 1999 and his MFA in sculpture from Concordia University in 2007. Spriggs's work has been shown nationally and internationally, including a group exhibition at the Louis Vuitton Gallery in Macau. His work is included in the collections of the Musée des beaux-arts de Montréal and the Musée national des beaux-arts du Québec, among others.
Photo of David Spriggs with his 2011 work Holocene courtesy of the artist.