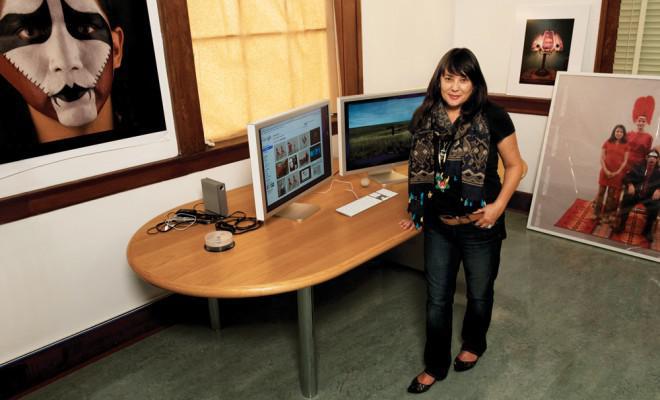 Born in Yorkton, Saskatchewan, in 1959. Lives and works in Vancouver.
Born of Lakota Sioux descent, Dana Claxton investigates the ongoing impact of colonialism on Aboriginal cultures in North America, primarily through film, video and photography. Her practice considers Indigenous beauty, the socio-political and the spiritual, among other themes. Claxton is well known for her work The Mustang Suite of 2008, a series of staged photographic portraits of a stylish, contemporary Aboriginal family. In this series, each family member is portrayed with their own personalized form of "mustang," whether it be a muscle car or a banana-seat bicycle. She has exhibited widely, including at the the Museum of Modern Art, the Walker Art Center and the Sundance Film Festival. Exhibitions include the 2010 Biennale of Sydney and "Beat Nation" at the Vancouver Art Gallery and other venues. Her work is in major collections including those of the National Gallery of Canada, the Vancouver Art Gallery and the Winnipeg Art Gallery, and she has received numerous awards including the VIVA Award from the Doris and Jack Shadbolt Foundation and the Eiteljorg Fellowship from the Eiteljorg Museum. Dana Claxton is also an assistant professor in the visual arts faculty at the University of British Columbia.
Image of Dana Claxton in the studio courtesy of the artist.