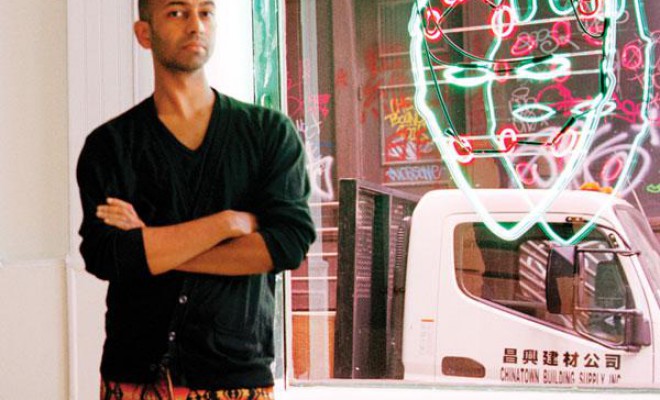 Born in Nairobi, Kenya, in 1979. Lives and works in Brooklyn and Toronto.
Brendan Fernandes is a multidisciplinary artist whose background—his parents are Goan, he was born in Nairobi and he was raised in Newmarket, Ontario—informs his experimentation with language and colonial iconography. Fernandes received his MFA from the University of Western Ontario in 2005 and subsequently completed the Independent Study Program at New York's Whitney Museum. Since then, Fernandes has shown at venues including the Art Gallery of Hamilton, the Guggenheim Museum and Art in General. Foe, a 2008 video work now in the permanent collection of the National Gallery of Canada, shows a close-up of the artist's mouth as he attempts, with aid from an acting coach, to read from J.M. Coetzee's titular novel in various "heritage accents," failing at all of them. Other characteristic work includes neon iterations of African masks, and large-format text works in deconstructed dialects. In 2010, Fernandes was shortlisted for the Sobey Art Award. In 2012, he was included in MASS MoCA's "Oh, Canada" exhibition and the National Gallery's Canadian Biennial.
Detail of a photo of Brendan Fernandes by Stephanie Noritz from the Spring 2011 issue of Canadian Art.