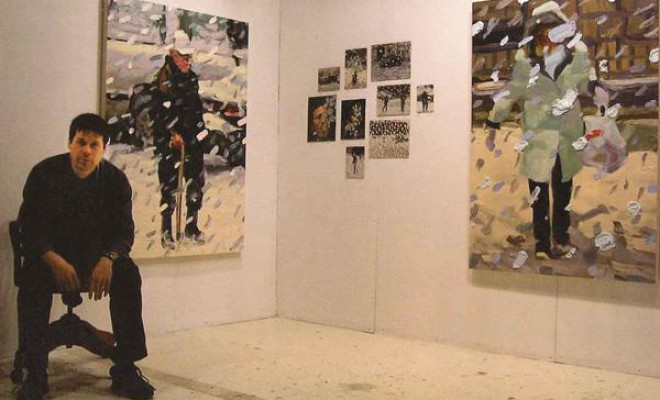 Born in North Vancouver in 1969. Lives and works in Vancouver.
How and why can simple brushstrokes evoke smoke, whipped cream or snowflakes? Can brushstrokes themselves be duplicated on canvas or paper—blown up and reconstituted as if the painter were also a restorer? Vancouverite Ben Reeves is concerned with these questions and more, underlining the materiality of paint and painting in his work. Reeves received a BFA from the University of British Columbia in 1993 and an MFA from Chelsea College of Art and Design in London, UK, two years later. In 2005, he was included in Oakville Galleries' group show "Drawing Painting," to which he contributed a wall-sized work based on Pieter Bruegel the Elder's The Tower of Babel, which he painted and then redrew, focusing on depicting brushstrokes. Subsequent painting suites by Reeves have included portraits of people smoking or walking through snow, and landscapes as seen through raindrops. In all cases, he at once challenges and pays homage to conventions of representational and abstract painting. Reeves is associate professor in the Faculty of Art and Material Practice at Emily Carr University of Art and Design.
Photo of Ben Reeves from the Summer 2008 issue of Canadian Art.