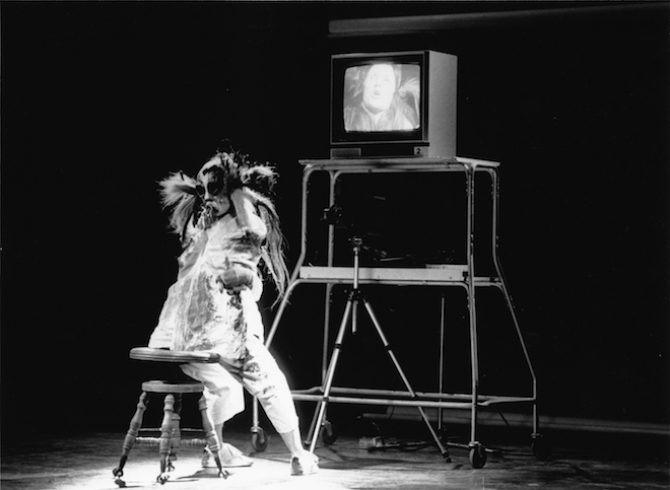 Suzanne Valotaire, Dragone rouge récidive, 1989, photo-documentation of the performance. Photo : artist's archives
Curator : Elise Anne LaPlante
Women artists have employed and continue to employ feminist approaches to demand that their contribution to art history be recognized, calling into question historical narratives which ignore the contribution of women as artists. This position has been indispensable to the progress benefiting recent generations, but it remains the case that this sort of feminist thinking must be maintained and become more widespread.
The exhibition Tombées dans les interstices highlights the work of some of the women artists who have contributed to the growth of a contemporary artistic identity in Acadie and examines the fact that feminist theories in the visual arts have had so little impact in Acadie and still today are little discussed in Acadian artistic practices. The present study explores the history of Acadian art, which began in the 1960s and 70s, when contemporary Acadian identity was taking off, in order to understand how and why the women artists who contributed to this history have fallen into oblivion.
In order to react to the repercussions of the lack of interest in feminism in the visual arts apparent in Acadie at a time when the movement was in full flight amongst our neighbours in Quebec and the United States, this exhibition will highlight the artistic practices of a few women who were active in Acadie, mainly during the 1970s and 1980s, and in whose work we can see a feminist impulse. These women were sidelined and fell into the cracks of collective memory, those almost invisible fissures opened up by the patriarchy but made imperceptible by the normalization of this patriarchy in the history of Acadian art. The artworks with a feminist discourse being exhibited show us that art concerned with women's conditions did exist in the Acadian community, and exhibiting these works again prompts us to reflect on what the feminisms around the arts in Acadie represent today.
The artists Yvette Bisson and Géraldine Cormier, today in their nineties, were pioneers. Their feminism is apparent not so much in their artwork as it is in the perseverance with which they practised sculpture and painting, disciplines traditionally dominated by men. After them, and illustrative of the contribution of women artists to the splintering of disciplines witnessed in contemporary art, the work of Nancy Morin, Ginette Gould and Magda Mujica is brought together under the theme of women's portraits and self-portraits, and the work of Yolande Desjardins, Dominique Ambroise and Suzanne Valotaire under the theme of exploring and affirming the body. These groupings are permeable and conceived as complementary. In addition, like most group exhibitions of women artists, or exhibitions which are feminist in nature, the common thread running through the exhibition is not aesthetic but rather social and political.
Artists : Dominique Ambroise, Yvette Bisson, Géraldine Cormier, Yolande Desjardins, Ginette Gould, Nancy Morin, Natalie Morin, Magda Mujica, and Suzanne Valotaire