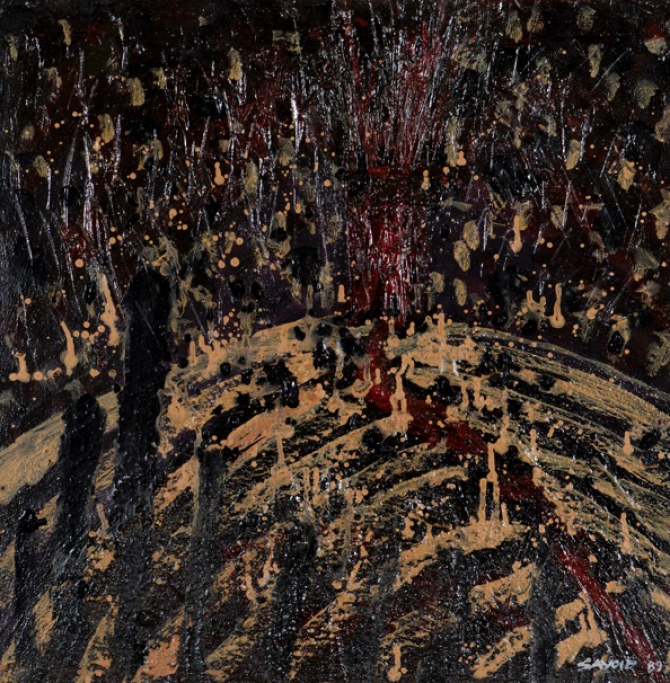 Roméo Savoie, Vulcan I, mixed media on wood, 1989-2014. Photo credit: Mathieu Léger
CERA ALBA examines Acadian artist Roméo Savoie's use of found objects and everyday naturally occurring materials, and how these might be reconfigured in his works to create new and unexpected meaning. The resulting body of work instigates innovative ways of relating organic and inorganic elements unto what can best be described as an "all-over" painterly surface.
Curated by Paul Édouard Bourque, this exhibition focuses on a pared-down selection of works produced during a time when Savoie was seriously questioning the role of the found object in a work of art, and how this issue relates to the overall scheme of his oeuvre. Modular elements figure prominently in the building-up of the pieces, with various references to grid-work and multiples; these are combined with superimposed diptychs and sectional pieces designed to dominate larger areas once installed.
Savoie's exuberant uses of beeswax, twigs, branches, glass and faded flower petals are brazenly combined with his trademark painterly application of saturated pigments onto a textured, heavily worked-up surface of either canvas or wood panel. These works address the artist's perennial questioning of the value judgements inherent in the representation of reality, and how mere worldly materiality might somehow lay claim to notions of the eternal.
Curator: Paul Édouard Bourque.