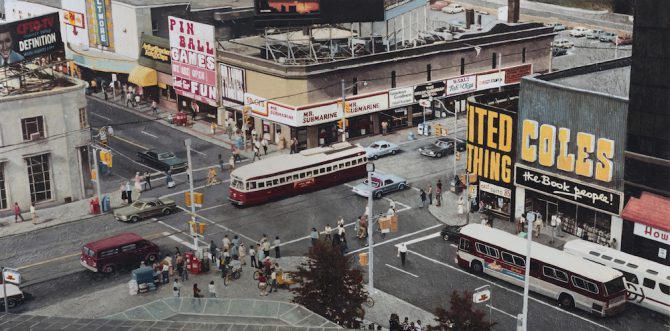 Yonge and Dundas, 1978 Acrylic on Wood 30″ x 60″ by HANNA KOSTANSKI. From City of Toronto Archives, Fonds 1526, File 92, Item 49 • Original Photograph by Harvey R. Naylor
OPENING RECEPTION: Thursday August 3 2017 from 5 PM to 8 PM
City of Toronto Archives Fonds 1526 consists of 8,405 original 35mm colour slides of Toronto created by local amateur photographer Harvey R. Naylor from 1954 to 1984. Naylor, a film and sound technician by trade, was keenly interested in the Toronto history, architecture, and local transit. He photographed many of Toronto's historic buildings and neighbourhoods, as well as demolition and construction sites throughout the city.
Hanna Kostanski August 2017 Solo Exhibition
Artist Statement:
For nearly a decade my work has been focused on the visible passage of time, experienced through the exploration and documentation of abandoned and decaying buildings in cities like Hamilton and Detroit. I have always been fascinated with historical architecture, specifically how we interact with our buildings and structures, and what happens when that interaction ceases to exist.
My current body of work continues to explore the connection between people and their environment, but with a focus on historical representations of that relationship.  To that end, I have been working on a series of paintings based on photographs found at the City of Toronto Public Archives. These images span several decades and are nostalgic of the city as it used to be. They celebrate the many past incarnations of Toronto, the vibrant intersections of the city and the interactions of its people.
Artist Bio:
Hanna Kostanski was born in Szczecin, Poland, and grew up in Hamilton, Ontario. She obtained her BFA from OCAD University in 2007 and currently resides in Hamilton and works in Toronto, Ontario. Her work can be found in dozens of private and public collections in Toronto and Hamilton.
Website:  www.hannakostanski.com 
Specifically for this show, including artist statement for the series:
www.hannakostanski.com/a-vibrant-past-toronto-in-the-20th-century-2017

Instagram:                                                                     Facebook page:
@hanna_makes_art                                                         @hkostanski
www.hannakostanski.com/hkostanski