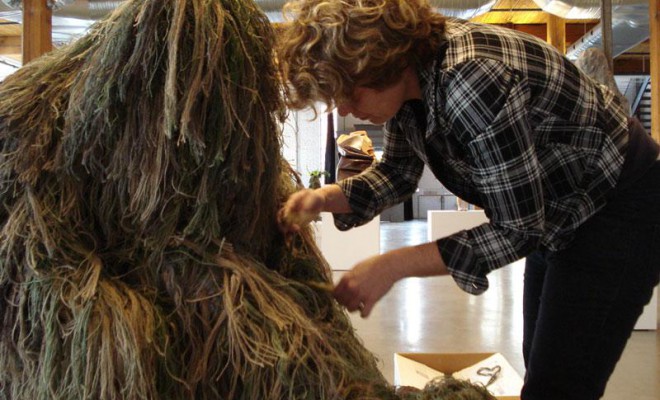 Born in Montreal in 1967. Lives and works in Montreal.
Valérie Blass has generated one of the most diverse, intelligent and disarming bodies of sculpture to emerge from Canada in recent years. Her works engagingly (and often humorously) combine figuration and abstraction, art and kitsch, fantasy and physicality. One of her best-known works, L'Homme paille, shows a swamp-creature-like figure posed like Rodin's Thinker on an Egyptian-looking bust. Another acclaimed work, L'Homme souci, is a muscular figure made out of artificial black hair; his feet are clad in shiny, black high heels. An attempt to draw out the moment of trying to recognize an object or an image—to prolong a moment of "not knowing"—is another hallmark of Blass' work, as is a deep commitment to studio practice. Blass earned her BFA and MFA at l'Université de Québec à Montréal. Her oeuvre came to national attention with her inclusion in the inaugural 2008 Quebec Triennial, and in 2011 she won the Prix Louis-Comptois. Blass has exhibited at the Museum of Contemporary Canadian Art, the Musée d'art contemporain de Montréal and the National Gallery of Canada, among other institutions.
Photo of Valérie Blass at work in the studio courtesy of Parisian Laundry.