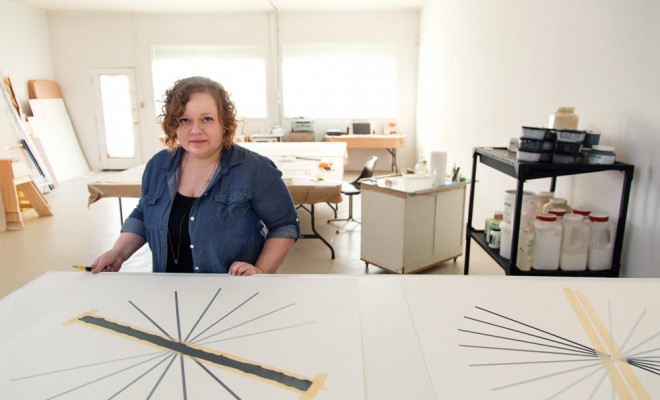 Born in Calgary in 1974. Lives and works in Saskatoon.
Saskatoon-based artist Tammi Campbell's paintings reflect on the act of making. Campbell is best known for works which appear to be comprised of partially completed abstract paintings, with tape masking aspects of the background; however, the entire image, including the tape, is to varying degrees made of paint, creating optical confusion and play, and exposing the practices of her Modernist and Minimalist forebears. Campbell studied at the University of Saskatchewan after moving to Saskatoon from her family home in Moose Jaw, and she graduated in 1999 with a BFA. Since that time, Campbell has studied at the Emma Lake Artist's Workshop and exhibited across the country. She has also founded Make Work Projects, an independent storefront studio and project space. Campbell's work is in the permanent collections of the National Gallery of Canada and the Mendel Art Gallery, as well as numerous private and corporate collections.
Photo of Tammi Campbell in her Saskatoon studio by Matt Ramage.