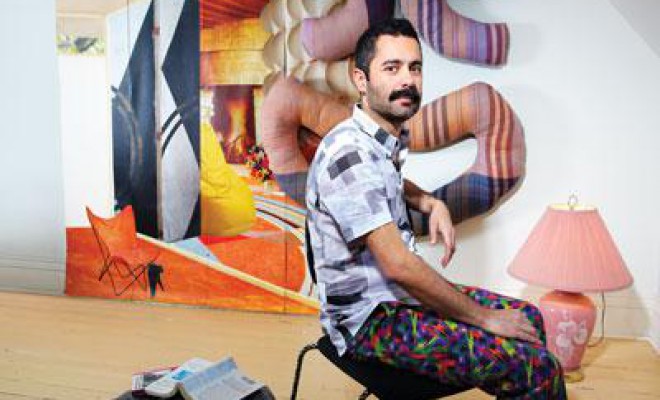 Born in Frankfurt in 1969. Lives and works in Toronto and Frankfurt.
Oliver Husain is a filmmaker and installation artist with a particular interest in theatrical and cinematic notions of spectatorship and scenery. Husain came to Canada in 2006 having completed a short-film trilogy set in Shanghai, Jakarta and Hyderabad. His work in Toronto has included a number of gallery-based interventions that place the audience in dual roles of spectator and subject. His 2010 show at the Art Gallery of York University, "Hovering Proxies," was an installation—comprised in part of feather-topped light stands and hand-printed silk scarves, objects which have recurred in other projects—that doubled as a set for a film also featured in the installation. Husain has shown internationally in venues such as ICA Philadelphia and Galeri Nasional Indonesia. A book on his work, Spoiler Alert, was published in 2012.
Photo of Oliver Husain by Miguel Jacob from the Summer 2012 issue of Canadian Art.