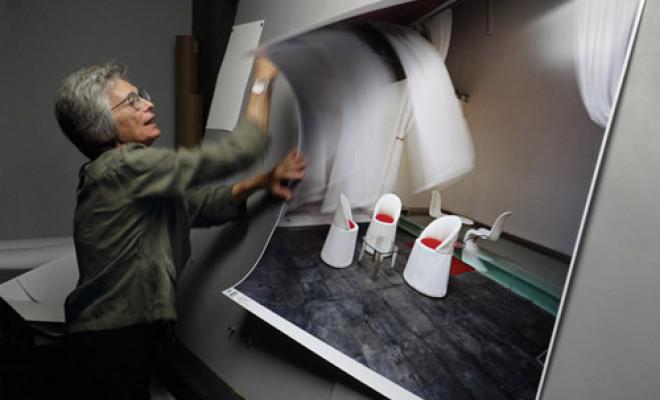 Born in Racine, Wisconsin, on July 3, 1944. Died in Montreal on May 13, 2014.
Lynne Cohen's photographs of domestic and public spaces betray a fascination with lived-in and artificial environments. Her photos, generally shot in black and white with an 8×10 view camera, are often devoid of human life, and as such read as contemplatively sterile and disquieting. Cohen studied at the University of Wisconsin, the Slade School of Art, University of London, and Eastern Michigan University. Heavily influenced by Pop art and Minimalism during this time, she trained in printmaking and sculpture before turning to photography. In 1973, Cohen moved to Ottawa, where she lived until 2005, when she relocated to Montreal. Cohen exhibited widely and taught at a number of institutions worldwide, including University of Ottawa, the School of the Art Institute of Chicago, the Nova Scotia College of Art and Design, Virginia Commonwealth University, Ecole nationale de la Photographie (Arles) and Hoger Instituut voor Schone Kunst (Antwerp). Major retrospectives and publications include Occupied Territory (1987), "No Man's Land" (2002) at the National Gallery of Canada, Nothing is Hidden (2012), and "Faux Indices" (2013) at the Musée d'art contemporain de Montréal. Cohen was the recipient of the 1990 Canada Council Victor Martin Lynch-Staunton Award, the 2005 Governor General's Award in Visual and Media Arts and the 2011 Scotiabank Photography Award.
Photo of Lynne Cohen proofing Untitled (blowing curtains) at Toronto Image Works, September 2009, by Michael Mitchell.